August 2021 Global Engagement Insider
Global Engagement Insider Newsletter - August 2021
Funding, opportunities, announcements, and resources for UC Davis globally engaged faculty and staff
Global Funding and Engagement
UC Davis Global Affairs, the Office of Diversity, Equity and Inclusion, and Sustainability are pleased to offer virtual conference grants to facilitate global connections and collaborative relationships and support UC Davis faculty, staff, and students in sharing UC Davis contributions to the UN Sustainable Development Goals (SDGs). Applications are considered on a rolling basis.
In partnership with the Association of Pacific Rim Universities (APRU), UC Davis Global Affairs and the Office of Diversity, Equity and Inclusion are now accepting nominations and self-nominations for faculty mentors and mentees for an exciting year-long Asian Pacific Women in Leadership Mentoring Program. The program focuses on empowerment, professional growth, and development to expand the pipeline of aspiring APRU women leaders. Extended Deadline: August 16 at 5 p.m. PDT
Small international teams of early-career researchers involved in innovative research projects aimed at understanding and addressing emergent societal challenges may apply to spend several short stays per year with European Institutes for Advanced Study partners to benefit from their research environment and networks, for a maximum total period of three years (2022-24).  Deadline: September 1, 2021 
The Fulbright U.S. Scholar Program offers diverse opportunities for U.S. academics, administrators, and professionals to teach, research, do professional projects, and attend seminars abroad. To identify potential opportunities, search the 2022-23 Catalog of Awards. UC Davis is consistently ranked among the country's top producers of Fulbright scholars. View a listing of all upcoming Fulbright U.S. Scholar webinars. All webinars are recorded and archived on the Fulbright website. The staff at Global Professional Programs in Global Affairs are happy to help UC Davis faculty and staff join the ranks of Fulbright recipients on campus! Deadline: September 15, 2021
Fulbright Canada is offering more than 50 Research Chairs across Canada for the 2022-23 academic year. The grants support research and collaboration for four months. Start dates for the grants are September 2022 or January 2023. Deadline: September 15, 2021  
Fulbright Canada is offering a series of nine-month Distinguished Chairs at Carleton University in Ottawa. The topics range from arts and sciences, public affairs, entrepreneurship, environmental sciences, and the scholarship of teaching and learning. Deadline: September 15, 2021
Global Events and Programs
August 26 The Fulbright International Education Administrators Programs help U.S. international education professionals and senior higher education officials create empowering connections with other countries' societal, cultural, and higher education systems. This webinar will discuss the programs in Japan and Korea.
September 10 Join the Fulbright U.S. Scholar Program for an in-depth look at the online application form, as well as the various components and required materials. Come prepared with your questions or simply listen along.
October 12-14 Attend this year's virtual conference (streaming live), at no charge, thanks to UC Davis Sustainability's sponsorship. Consider including attendance in your curriculum plans or participate yourself to learn about the policies, collaborations and transformative actions that advance sustainability in higher education.
UC Davis Global Affairs is a proud sponsor of the Mondavi Center's 2021-22 season of performances running October 2021 through May 2022. Among several global works are Arturo O' Farrill and the Afro Latin Jazz Orchestra (October 14), Pamyua (November 21), Ballet Folklórico de México de Amalia Hernández (March 18), and Las Cafeteras (April 28). Ticket discounts are available for current and retired UC Davis faculty and staff.
Announcements
Individuals who are fully vaccinated are no longer be required to self-quarantine for five days upon return from international travel and to receive a negative COVID-19 test. UC Davis no longer requires school/college/division appointee approval for domestic travel.
Questions and answers related to travel, services for international students and scholars, study abroad and global learning programs, and more.
Services for International Students and Scholars (SISS) in Global Affairs regularly updates information and adds answers to frequently asked questions on this webpage to support international students and scholars planning for fall 2021.
Global Spotlights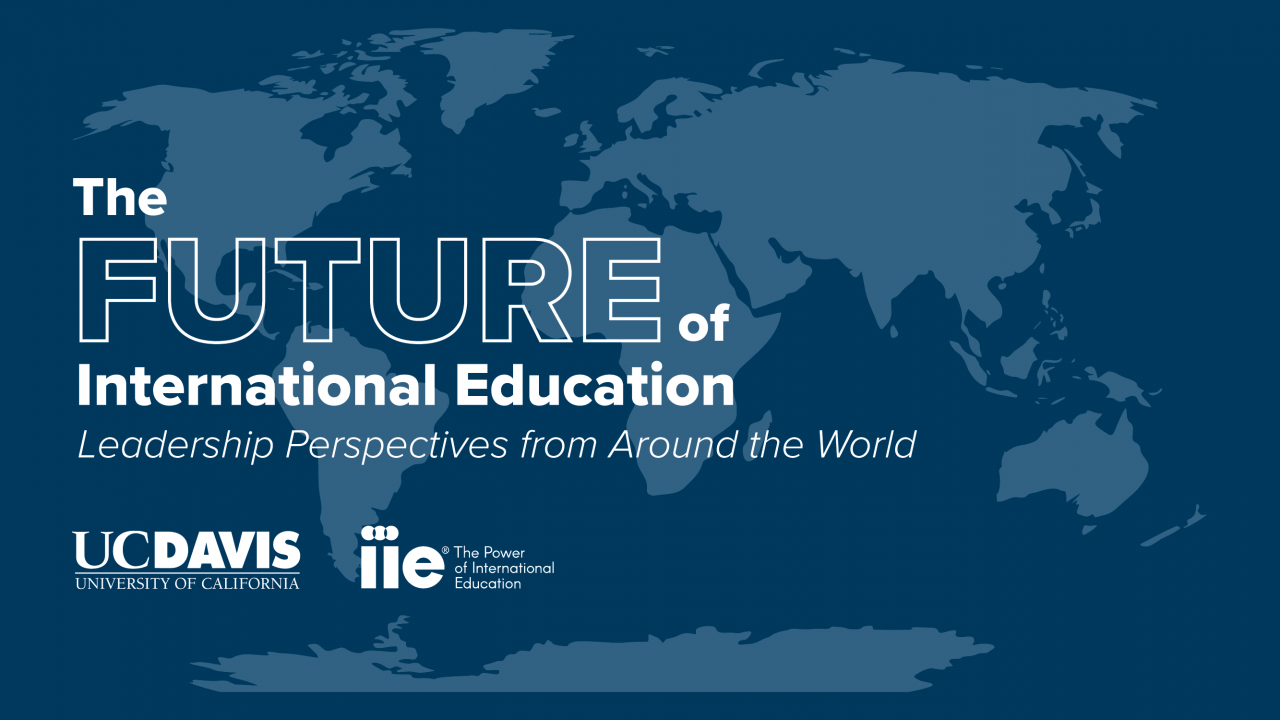 Telling the Story of UC Davis: Units Earn Awards for Communication, Development Efforts
Accolades from regional, national and international competitions have been rolling in for UC Davis' communication and development efforts in recent months, including a Council for the Advancement and Support of Education (CASE) Award for the Future of International Education: Leadership Perspectives From Around the World panel series, in the category of special events (events on a shoestring), by Global Affairs in partnership with the Institute of International Education (IIE).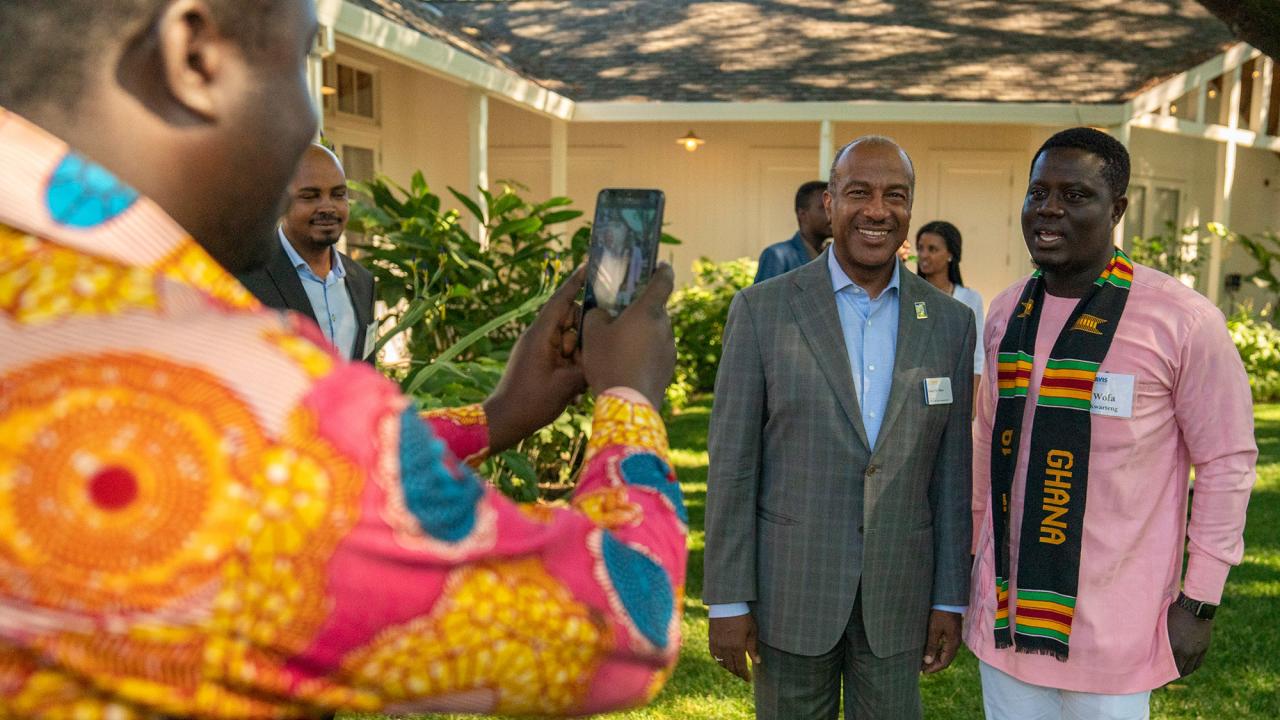 CHANCELL-ING: Remembering Mandela and Celebrating Freedom
Chancellor Gary S. May features the UC Davis Mandela Washington Fellows in his monthly column honoring Independence Day and the University of California's commemoration of Juneteenth.
International Visitors and Agreements
Recent International Delegation Meetings (Virtual) (July 1 - 31, 2021)
Université de Versailles Saint-Quentin-en-Yvelines (UVSQ) | France
Recent International Agreements Signed (July1 - 31, 2021)
Instituto de Conservación de Ballenas | Argentina

Nanjing Agricultural University | China
Learn more about hosting visitors from around the world, or the international agreement process on the Global Affairs website.
---
Primary Category
Tags