October 2021 Global Engagement Insider
Quick Summary
The October 2021 Global Engagement Insider Newsletter with funding, opportunities, announcements, and resources for UC Davis globally engaged faculty and staff.
Global Engagement Insider Newsletter - October 2021
Funding, opportunities, announcements, and resources for UC Davis globally engaged faculty and staff
Global Funding and Engagement
Global Affairs Opportunities
Seed Grants for International Activities fosters the creation of innovative new programs with a global focus that advance knowledge, enrich student learning, and help solve society's most pressing problems. We encourage faculty of all ranks and titles to submit proposals. This year we will focus two seed grants on CAMPOS or CAMPSSAH scholars (past and present); and research collaboration with Taiwan, funded by the UC Davis-Taiwan Collaborative Research Fund in memory of former chancellor Larry Vanderhoef. Funding from Global Affairs ranges from $5,000-$10,000 per proposal. Depending on matching funds, the total budget could be as much as $20,000. Deadline: December 7
The Chancellor's Awards for International Engagement recognize individual faculty and staff members for their outstanding international engagement in carrying out the university's teaching, research, and service missions. There are two categories of awards: faculty (Academic Senate or Academic Federation) and staff. Deadline: December 10
Global Affairs, the Office of Diversity, Equity and Inclusion, and Sustainability offers grants to promote multidisciplinary collaborations focused on one or more of the United Nations Sustainable Development Goals (SDGs). We expect to fund up to four awards of up to $7,500 this year, including two awards for projects that focus on one or more of the 17 SDG Goals. One award will go to a proposal that is focused on ensuring equal opportunity and reducing inequalities of outcome, including by eliminating discriminatory laws, policies, and practices and promoting appropriate legislation, policies, and action in this regard (SDG 10.3), and one award for CAMPOS/CAMPSSAH scholars. Deadline: January 4
The Excellence in Teaching of Study Abroad Award recognizes the commitment of instructors who design and teach Study Abroad programs and make international experiences accessible to all UC Davis students. The selection committee members will review all nominees and select two awardees: one member of the Academic Senate and one member of the Academic Federation. Deadline: January 5
UC Davis Global Centers, Latin America and the Caribbean supports academic mobility and research opportunities between UC Davis and the region. During the 2021-22 academic year, we will be spotlighting Mexico in public events, student programming, and other initiatives. If you are a member of the UC Davis community and involved in a project or event in the region or with a partner institution from the region, please email Faculty Director Chuck Walker cfwalker@ucdavis.edu, so that we can include in our outreach to campus and external partners. 
UC Davis and University of California Opportunities 
Consider submitting a globally engaged proposal for UC Davis' 2021 Scholarship of Teaching and Learning Conference, hosted by the Center for Educational Effectiveness. This conference is dedicated to celebrating and sharing the work of UC Davis' growing community of scholarly educators. The conference takes place on December 3, 2021. Extended Proposal Deadline: October 17
The GloCal Health Fellowships, sponsored by the National Institutes of Health's Fogerty International Center, provide aspiring global health researchers with outstanding interdisciplinary education and training in innovative research designed to improve health for populations around the world. Deadline: November 1
The France-Berkeley Fund invites applications for up to $12,000 in seed funding for new collaborations between faculty and research scientists at UC Davis and their counterparts in France. There is a required campus match of up to $8,000 per award, with the Office of Research funding up to $4,000 per award if a dean funds a like amount. For more information, contact Ahmad Hakim-Elahi, executive director, sponsored programs at ahakimelahi@ucdavis.edu. Deadine: January 31
External Opportunities
Organizations in the United States and Russia are invited to submit proposals for collaborative projects in one or more of the following areas: the Arctic and environmental conservation; Indigenous peoples' empowerment; disability and inclusion; public health; or Open Thematic Area. SEE accepts applications that are jointly developed by at least one U.S. and one Russian partner non-governmental organization and offers funding up to $50,000 for the implementation of joint initiatives. Deadline: November 1 
Global Events and Programs
October 12-14 Attend this year's virtual conference (streaming live) at no charge, thanks to UC Davis Sustainability's sponsorship. Consider including attendance in your curriculum plans or participate yourself to learn about the policies, collaborations, and transformative actions that advance sustainability in higher education.
October 14 Join Professor and Chair Edyta M. Bojanowska, Department of Slavic Languages and Literatures, Yale University, as she presents the 7th Annual Alan Templeton Distinguished Lecture in Foreign Language and Culture. You are invited to follow a mid-century Russian naval voyage around the coastal rims of southern Africa and Asia, part of an official government mission to open Japan to European trade. Learn how the 19th-century world, shaped by western colonial empires, looked to Russian observers.
November 17 UC Davis staff are invited to register through Staff Development and Professional Services for a three-and-a-half-hour virtual course to develop their awareness, knowledge, and skills in understanding the role global learning plays in students' academic, personal, and professional development.
UC Davis Global Affairs is a proud sponsor of the Mondavi Center's 2021-22 season of performances running October 2021 through May 2022. Among several global works are Arturo O' Farrill and the Afro Latin Jazz Orchestra (October 14), Pamyua (November 21), Ballet Folklórico de México de Amalia Hernández (March 18), and Las Cafeteras (April 28). Ticket discounts are available for current and retired UC Davis faculty and staff.
Announcements
Global Affairs is launching a new Global Community Emergency Fund to provide direct support to members of the UC Davis community, including visiting scholars, students, faculty and their families impacted by natural disasters, humanitarian crises, and other circumstances beyond their control.
Chancellor Gary May and Provost Mary Croughan have generously committed $50,000 to support our current, most urgent efforts to bring visiting scholars from Afghanistan to join the UC Davis community.
Join Global Affairs in our effort to support members of our community impacted by recent crises by making a gift to the Global Community Emergency Fund during our Crowdfund UCDavis campaign.
Give to the Global Community Emergency Fund
As the 2021-22 academic year begins, it is important to remember that international travel restrictions are still in place. To continue to protect the safety and well-being of our campus community, the university still recommends against all non-essential domestic and international travel. If international travel is required, travelers must seek approval from their school, college, division dean, or dean appointee. If travel is required to areas of the world where the risk of COVID-19 transmission is still high, the Travel Review Committee must provide approval.
On September 20, 2021, the Biden administration announced that the U.S. will require all international travelers coming into the United States to be fully vaccinated and tested for COVID-19. This is scheduled to go into effect in early November, and we will provide updates as the rules are finalized.
Questions and answers related to travel, services for international students and scholars, study abroad and other global learning programs, and more.
A new policy for Visiting Academic Collaborators, both domestic and international, is now in place for those visiting the campus to participate in or observe teaching, research, or public service activities for more than 10 consecutive working days in collaboration with a member of the UC Davis community.
Visit Undergraduate Education's Just-in-Time Teaching resources for a range of strategies instructors can readily use in their classrooms. In addition, Global Affairs has contributed a new section on Global Learning under Planning Instruction and Learning Activities.
Global Spotlights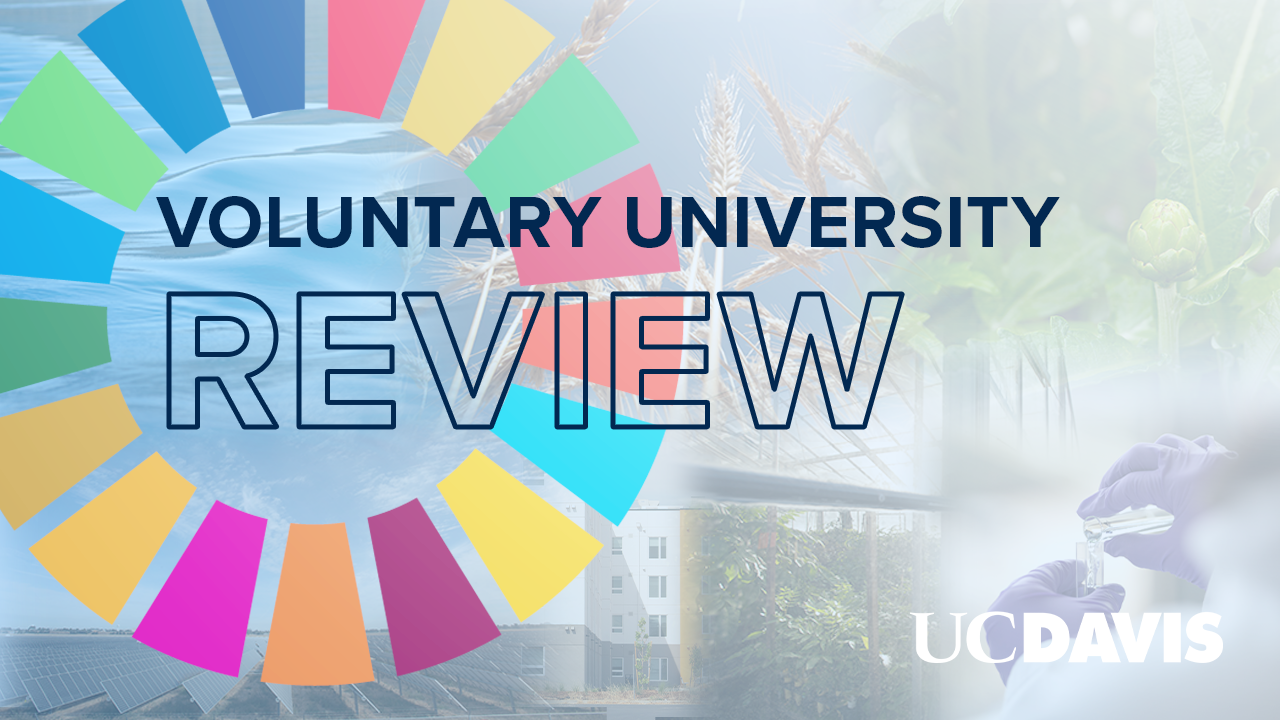 UC Davis Launches Voluntary Review of Global Sustainable Development Goals
UC Davis has launched its first-ever Voluntary University Review (VUR) of its engagement with the UN Sustainable Development Goals (SDGs). The data show UC Davis students, faculty, and staff are participating in more than 2,580 SDG-related activities, addressing all 17 SDGs across more than 80 countries.
Led by a partnership between UC Davis Global Affairs, Sustainability, and Office of Diversity, Equity and Inclusion, the VUR measures UC Davis' progress in addressing the SDGs through research, teaching, service, and operations. It also builds awareness, highlights our campus strengths, and presents key findings and next steps as UC Davis actively engages on SDG-related programs and projects with collaborators across campus, the community, region, and world.
UC Davis is among the first universities to complete this type of review, and it reflects months of data gathering and analysis from a campus-wide engagement process.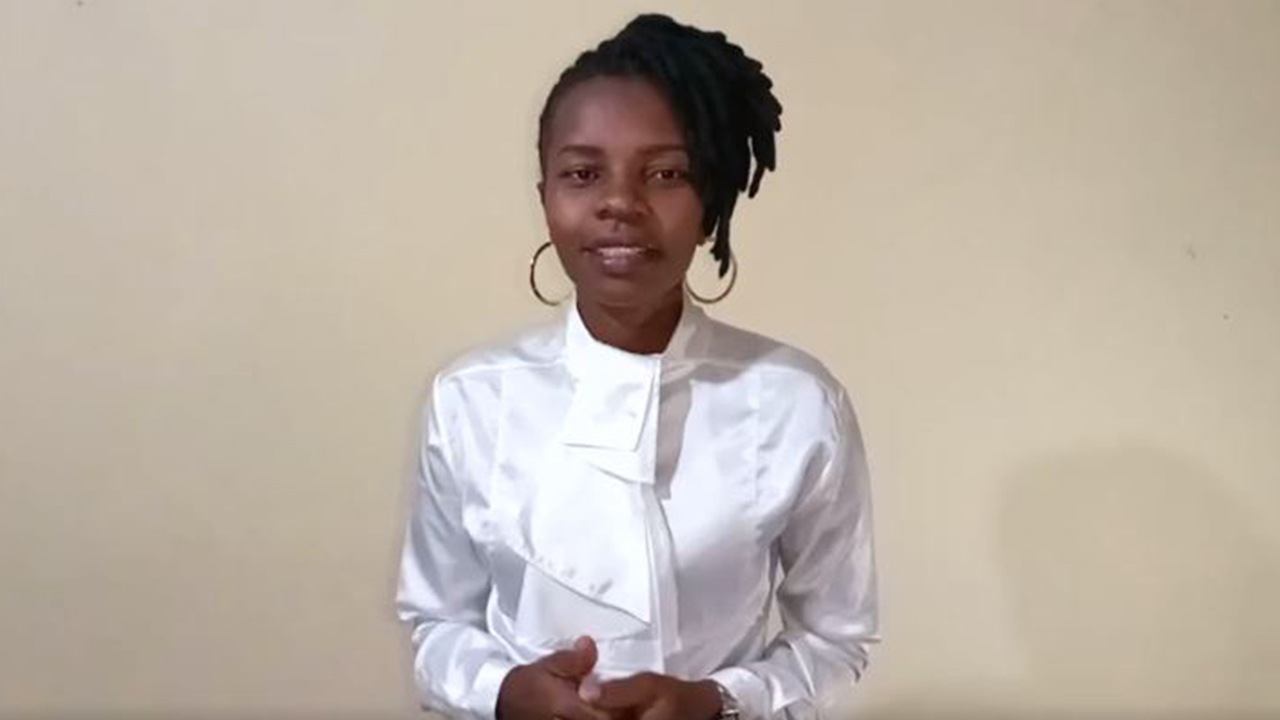 Igniting Hope: 2021 Mandela Washington Fellows Call for Global Change
As part of the six-week 2021 Mandela Washington Fellowship, UC Davis Fellows participated in Ignite Talks, a series of three-to-five-minute speeches delivered by the Fellows regarding their specific professional projects, future plans, and inspirational advice they feel the world could benefit from.
International Visitors and Agreements
Recent International Delegation Meetings (Virtual) (September 1-30, 2021)
American University of Cairo | Egypt
Université de Versailles Saint-Quentin-en-Yvelines | France
Newcastle University | United Kingdom
Recent International Agreements Signed (September 1-30, 2021)
Royal Thimpu College | Bhutan
South China Agricultural University | China
SRM University, Andhra Pradesh | India
Waseda University | Japan
Learn more about hosting visitors from around the world, or the international agreement process on the Global Affairs website.
---
Primary Category
Tags