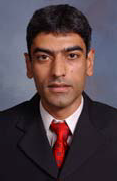 Program Coordinator/Senior Agricultural Specialist for Chemonics International Inc.
Hubert H. Humphrey Fellowship Program
2004-05
Afghanistan
Bio
Mr. Ahmad holds a Bachelor's degree in Agriculture from the University of Heart in his home country of Afghanistan. He has been working for over seven years in a wide range of organizations: national and international NGOs, university, local Shura councils and civic associations. He also has experience working with various agricultural development programs in different parts of Afghanistan. His most recent employment was with Chemonics International, Inc. where he worked as a program coordinator. As a Humphrey Fellow, Mr. Ahmad will strengthen his capacity in agricultural marketing and development projects and improve his skills in managing and directing appropriate programs for developing agricultural practices, and promoting marketing systems for agriculture production.
Program Type
Year
Country