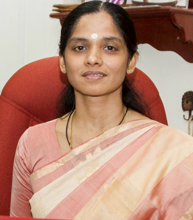 Director, Center for Cybersecurity Systems and Networks and Amrita Technology Business Incubator, Amrita Vishwa Vidyapeetham
2018 International Research Conference at UC Davis Speakers
2018-19
India
Bio
Krishnashree Achuthan is the director of the Center for Cybersecurity Systems and Networks and Amrita Technology Business Incubator (Amrita TBI) at Amrita Vishwa Vidyapeetham. 
Amrita Center for Cyber Security Systems and Networks promote partnership between industry, academia and the government to foster innovative research and education in Cyber Security, thus enhancing knowledge, deriving solutions, benefiting society and mitigating risks. 
Achuthan also is the co-director of Indo - U. S. and international initiatives at Amrita Vishwa Vidyapeetham. Amrita Vishwa Vidyapeetham is a multi-campus, multi-disciplinary research academia that is ranked as one of the best research institutions in India.
She also is the dean of PG Programs, Amrita School of Engineering, Coimbatore and a professor at the department of chemical engineering at the Amrita School of Engineering at the University in Coimbatore.
Achuthan is an ardent researcher with multi-disciplinary interests. Her areas of interest in materials science include, thin films and engineering of materials for electronic applications. She also leads research teams focused on enhancement of laboratory education through virtual laboratories. 
She holds 29 US patents and has published widely in highly acclaimed international journals.
Achuthanholds a Ph.D. from Clarkson University in New York.
Program Type
Year
Country