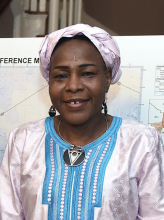 Ambassador of Niger to the United States
2018 International Research Conference at UC Davis Speakers
2018-19
Niger
Bio
Hassana Alidou is Niger's ambassador to the United States and a professor at Alliant International University located in San Diego, California.
Previously, she as an assistant professor at Texas A&M University and a lecturer for The World Bank Education Specialists Institute of Development Studies at Britain's Sussex University. From 2000 to 2003, Alidou was senior consultant and academic director of the German Foundation for International Development, UNICEF and the Burkina Faso Ministry of Education bilingual education and literacy and reading project.
Alidou specialization focuses on language policy in education and development, development of multilingual literate environments, women studies and peace education. She has worked extensively in more than 30 countries in Africa with language of instruction policies to provide technical guidance to national governments and international organizations (i.e. UNESCO, World Bank, ACALAN, and ADEA). 
Alidou has written and published books and several articles, and has written extensively on gender in international development and the promotion of African languages in education, particularly in francophone countries. She has collaborated extensively with other specialist in the field of socio-linguistic and is one of the leading thinkers in promoting bilingual education in Africa. 
While she has provided extensive knowledge in language planning and policies and multicultural education. She also has contributed by providing teacher training, textbook production and the development of literate environments in multilingual settings. She has edited mother-tongue textbooks used in Niger and Burkina Faso. 
Originally from Niger, Alidou's fluency in English, French and other African indigenous languages has made her somewhat unique in the field as she can examine and compare multiple education systems within Africa. She speaks frequently at conferences and lectures around the world from England to Burkina Faso.
Alidou graduated in 1987 from Université de Niamey in Niger's capital with a bachelor's degree in linguistics. Alidou attended the University of Illinois, with the help of a U.S. government-funded Thomas Jefferson Fellowship, and earned a master's degree and Ph.D. in socio-linguistics.
Program Type
Year
Country