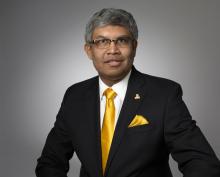 Vice-Provost (International) and Professor, University of Calgary
2018 International Research Conference at UC Davis Speakers
2018-19
Canada
Bio
Janaka Ruwanpura is the vice provost international at the University of Calgary, Canada, where he has led the university's international strategy since 2013. Before becoming vice provost international, he was a full professor and Canada research chair of the project management systems in the Schulich School of Engineering at the University of Calgary. He is the founding director of the Centre for Project Management Excellence at the University of Calgary and has been the director of project management since 2005.
Ruwanpura, a former Fulbright scholar, has developed many best practices and tools that have been successfully implemented in the construction industry. He has published more than 180 technical papers in refereed journals and conference proceedings. Ruwanpura has also been recognized with many national and international awards for teaching, research, service, graduate education and internationalization.
Ruwanpura's experience in international activities is extensive.  He served as co-leader for the International Institute for Infrastructure Renewal and Reconstruction—a multi-university consortium of more than 20 universities around the world, which has collaborative research in disaster planning and management. During his tenure as vice provost international, he has brought several new initiatives to the University of Calgary. These include developing and implementing collaborative degree models for undergraduate and graduate levels, co-developing global research initiatives and sites in China and Mexico, establishing new research partnerships in the U.S., U.K., Germany, China, Mexico, Norway, India, etc., and promoting and developing new funding models, over $1 million per year, for opportunities for students' international experience and to enhance international exposure for faculty and staff.
Program Type
Year
Country