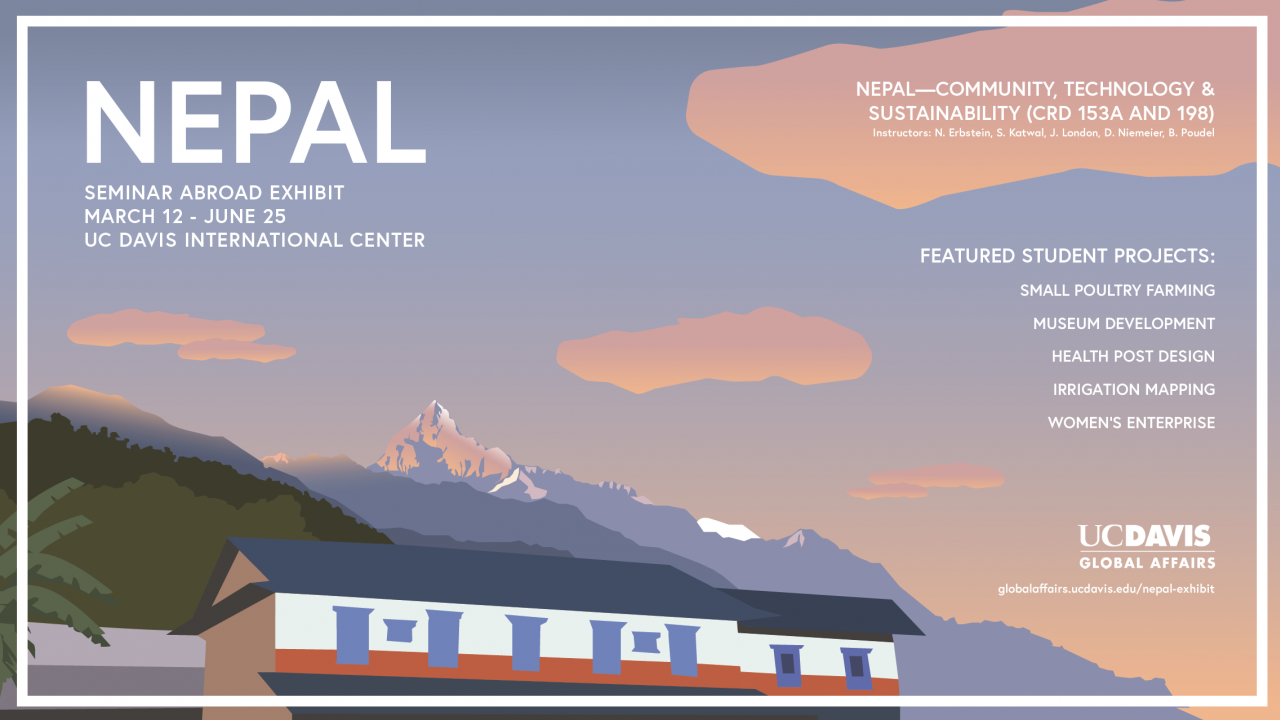 Location
UC Davis International Center
UC Davis Nepal Seminar Abroad Exhibit in the International Center
Together with partners across campus, UC Davis Global Affairs is pleased to host an exhibit created by participants of the UC Davis Study Abroad Seminar CRD 153A and 198 "Nepal—Community, Technology, and Sustainability" (Instructors Nancy Erbstein, Samrat Katwal, Jonathan London, Deb Niemeier and Bijay Poudel).
The inaugural program included parallel seminars at UC Davis and in Kathmandu, Nepal during fall 2017, and joint activity in Nepal during winter break 2017-18. 
The exhibit showcases project posters, fieldwork photographs, and journal entries of the 29 UC Davis and Nepalese university students as they learned to work with each other and with community members in Machhapuchhre, Nepal.  
Featured Student Projects
Small Poultry Farming
Women's Enterprise
Museum Development
Health Post
Irrigation Mapping
Program Partners
Program development was supported by a Global Affairs Seed Grant with the College of Agricultural and Environmental Science. This program is also a Capacity Building Grant for U.S. Undergraduate Study Abroad Programming funded by the U.S. Department of State, administered by Partners of the Americas.Participating UC Davis students received credit for this program through the Department of Human Ecology/Community Development. Program faculty members are based in the Department of Human Ecology/Human Development, Department of Human Ecology/Community Development, Department of Civil and Environmental Engineering, and the School of Education. Nepalese instructors are associated with Hands On Institute; Nepalese participants are associated with Tribhuvan University Main Campus, Tribhuvan University Institute of Engineering/Pulchowk Campus, Kathmandu University, and Pokhara University.
---
May 2 – July 6, 2018
2018 Programs
2019 Planned Programs
---
About Global Affairs at UC Davis
Global Affairs brings the world to UC Davis, welcoming more than 8,400 international students, scholars and leaders, and hosting programs that inspire global curiosity, understanding and engagement. Compelled by the valuable outcomes of thinking globally, we make transformative opportunities a reality by supporting the thousands of students and faculty studying and researching internationally—and by facilitating collaborations that tackle the world's most pressing problems through more than 150 international partnerships.
Putting our vision of a UC Davis community that engages, thrives, and leads in this interconnected world into action, Global Affairs is now in pursuit of an ambitious goal: Global Education for All.
Event Category
Tags