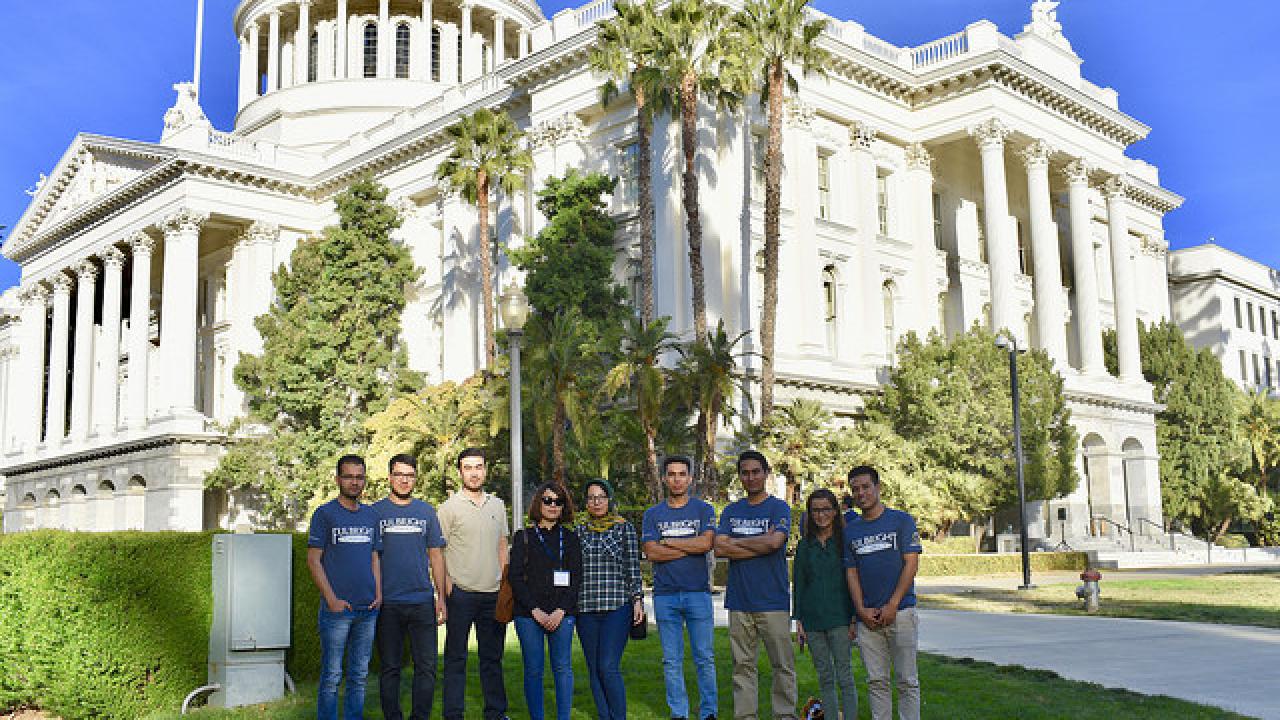 By Mary Martin-Mabry, digital communications specialist, Global Affairs
Attending graduate school in your country of origin can be demanding, but imagine beginning your professional research or studies thousands of miles from home, in a second language, while trying to adapt to cultural nuances and different academic standards.
This is a reality faced by many Fulbright Students coming to study in the U.S. Once accepted into the program, students must quickly adjust and acclimate to a new culture both on and off campus, understand the expectations of professors and instructors, manage their budget and juggle family life, all while taking advantage of campus connections, resources, and opportunities.
To support the transition for 56 Fulbright master's and Ph.D. Students from Afghanistan placed at universities across the U.S., UC Davis was awarded a competitive grant through the Institute of International Education (IIE) as the only university to host Fulbright Afghanistan Leadership Seminars in Fall 2018 and Spring 2020.
UC Davis Global Affairs and UC Davis Continuing and Professional Education, International, will host the first seminar this November 1-4 to reduce some of the barriers to success, improve Fulbright Afghanistan Program participants' knowledge of U.S. academic life, help them build networks with other students and scholars in their fields, and prepare them for their time here in the program and their re-entry to Afghanistan. The seminars will also explore leadership development and goal setting topics.
Afghanistan is very diverse; the students come from varied ethnic, linguistic, and geographic backgrounds and their fields of study range from humanities to business and management, social sciences to science and technology. While they are highly proficient in English, they have varying familiarity with U.S. academic and social culture.
"UC Davis is so fortunate to have the opportunity to work with these Afghan students as they embark upon their Fulbright experiences in the U.S. We're looking forward to providing an environment where we can support the students both academically and professionally," said Jennie Konsella-Norene, assistant director of global professional programs in Global Affairs. 
"In turn, the students will bring a wealth of knowledge for us all to learn from, offering an enriching experience for our campus and community," she continued.
Programming is designed to prepare students for their U.S. graduate studies academically, professionally, socially, culturally, and personally. One session, for example, gives participants the opportunity to ask a panel of second-year student mentors questions and discuss issues related to their successes and challenges with acclimation and adjustment to graduate school in the U.S. Participants will practice expressing their ideas and asking questions in an academic setting to help strengthen their communication skills.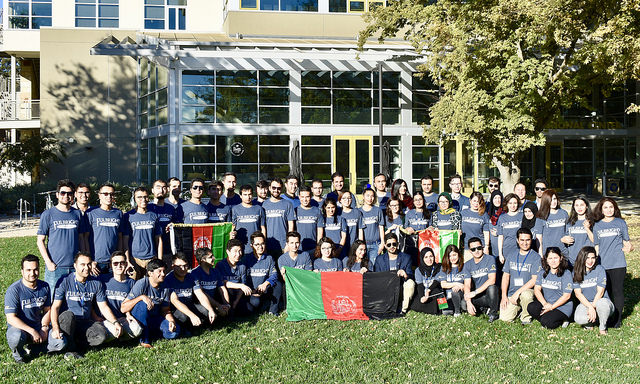 One unique feature of the seminar is a reflective meditation activity inspired by Dr. Steven Covey's book The Seven Habits of Highly Effective People, focusing on concepts like the importance of attitude, carpe diem, and prioritization. They will be guided through a practical goal-setting process to develop their goals as Fulbright students in the U.S. and as professionals in Afghanistan. UC Davis will then host a re-entry leadership seminar for primarily the same cohort in spring 2020, to prepare them for their return home to Afghanistan.
"Typically grants are for one specified time period. Rarely is there a chance to create goals and a plan and then evaluate its success and create goals for a return home with the same audience two years later in such a concrete way," according to Tina Castillo, associate academic director of international English and professional programs for Continuing and Professional Education, International.
"The outcome of this program will also allow UC Davis to elevate future offerings, by taking this feedback and dialogue into account," she continued.
The Fulbright Program was established by Congress in 1946 to fund the "promotion of international good will through the exchange of students in the fields of education, culture and science." It offers grants to study, teach and conduct research for U.S. citizens to go abroad and for non-U.S. citizens to come to the U.S. Since its inception, the Fulbright Program has sent more than 380,000 students and scholars to more than 160 countries around the world.  
The Fulbright Afghanistan Program has a longstanding history but was suspended in 1979 after the Soviet Army invaded. The U.S. State Department reinstated the program in 2003 in an effort to rebuild academic ties with war-torn Afghanistan after being absent for almost a quarter-century. Afghanistan's president Ashraf Ghani is a Fulbright Alumnus, and has a personal understanding of the value of international educational exchange programs.
After finishing their degrees or research in the U.S., Afghan Fulbrighters will return home and are expected to use their new skills and knowledge to become successful leaders in their institutions and to implement improvements or innovations in their professional fields. They are also encouraged to share their experiences in the U.S. with friends, family, and colleagues in order to expand the positive impact of the program on Afghanistan.
"Our faculty and speakers are excited to share their expertise with this population to help set them up for success at their home campuses for the duration of the program and at the end, to help ensure their successful return to their country," said Castillo.
---
About the Fulbright Afghanistan Program
This activity is sponsored by the U.S. Department of State's Bureau of Educational and Cultural Affairs as part of the Fulbright Program, the U.S. government's flagship international exchange program supported by the people of the United States and partner countries around the world. For more information, visit fulbright.state.gov. This activity is administered by the Institute of International Education (IIE).
---
About Global Affairs at UC Davis
Global Affairs brings the world to UC Davis, welcoming more than 8,400 international students, scholars and leaders, and hosting programs that inspire global curiosity, understanding and engagement. Compelled by the valuable outcomes of thinking globally, we make transformative opportunities a reality by supporting the thousands of students and faculty studying and researching internationally-and by facilitating collaborations that tackle the world's most pressing problems through more than 150 international partnerships.
Putting our vision of a UC Davis community that engages, thrives, and leads in this interconnected world into action, Global Affairs is now in pursuit of an ambitious goal: Global Education for All.
Category
Tags