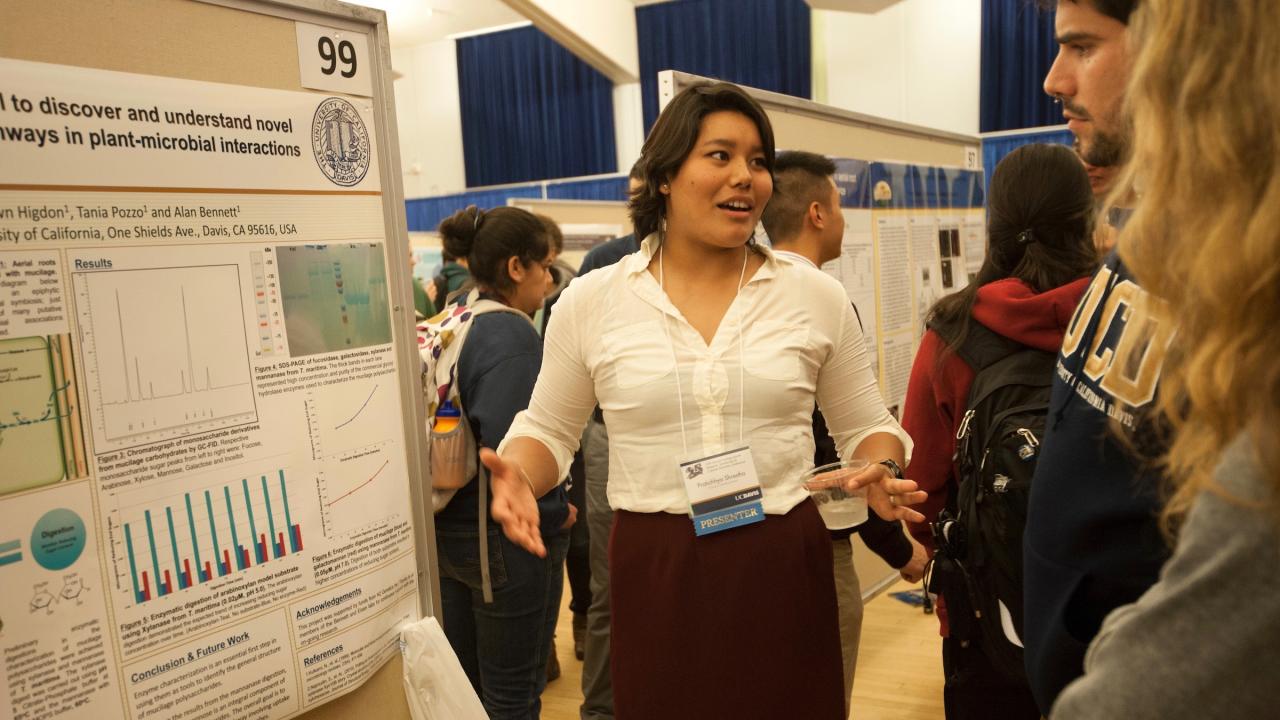 2018 International Research Conference at UC Davis
The two-day conference, "Innovation within Changing Political and Research Environments," will include university leaders, scholars, and representatives of foundations, foreign governments and industry from throughout the globe. It is the first time the International Research Conference is being held on the West Coast or at a University of California campus. 
The 2018 International Research Conference at UC Davis will focus on four themes:
Changing political environments and the impact on international research
Increasing importance of networks and consortia in advancing international research
Role of interdisciplinary or transdisciplinary research in solving global challenges
Education of the next generation of international researchers
One of the primary objectives of the conference is to understand the changing environment within which international research is being conducted, particularly research that is conducted outside the United States. The conference also will explore the implications this changing environment has on training graduate and professional students, and graduate and professional student research opportunities.
The conference will feature graduate and professional students poster presentations and a panel discussion focusing on challenges and opportunities for conducting graduate and professional student research internationally. This is a unique opportunity for graduate and professional students to share their research with international thought leaders.
Abstract Submission
Graduate and professional students from around the world are invited to apply. The deadline for submission is July 16, 2018.
Submission Guidelines
The abstract should be no longer than 400 words and should describe research conducted internationally. The abstract should summarize the research and include a separate section (within the word limit) explaining the challenges of conducting the research outside the United States. 
A committee will choose 10 abstracts to be presented at the 2018 International Research Conference at UC Davis. Submissions will be evaluated and graduate and professional students will be informed of final decisions by August 1, 2018. Selected students are expected to present a poster at the conference on September 18, 2018. A panel discussion will follow the presentation of posters. 
Registration fees will be waived and one-night accommodation will be provided for graduate and professional students who are selected to participate in the conference. 
For more information, please contact Ermias Kebreab (ekebreab@ucdavis.edu) or Jolynn Shoemaker (jmshoemaker@ucdavis.edu). 
---
About Global Affairs
Global Affairs brings the world to UC Davis, welcoming more than 8,400 international students, scholars and leaders, and hosting programs that inspire global curiosity, understanding and engagement. Compelled by the valuable outcomes of thinking globally, we make transformative opportunities a reality by supporting the thousands of students and faculty studying and researching internationally-and by facilitating collaborations that tackle the world's most pressing problems through more than 150 international partnerships.
Putting our vision of a UC Davis community that engages, thrives, and leads in this interconnected world into action, Global Affairs is now in pursuit of an ambitious goal: Global Education for All.
Category
Tags