Increasing Mutual Understanding through Student Exchange
U.S. Fulbright Students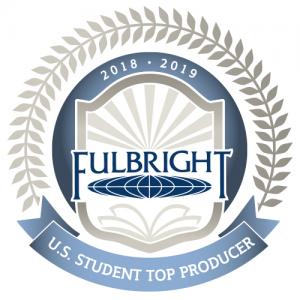 The Fulbright U.S. Student Program provides grants for individually designed study/research projects or for English Teaching Assistant Programs. Fulbrighters meet, work, live with and learn from the people of the host country, sharing daily experiences.
The program facilitates cultural exchange through direct interaction in the classroom, field, home, and in routine tasks, allowing grantees to gain an appreciation of others' viewpoints and beliefs, the way they do things, and the way they think. Through engagement in the community, Fulbrighters interact with their hosts in an atmosphere of openness, academic integrity, and intellectual freedom, thereby promoting mutual understanding.
Through the years, UC Davis has been named as a Top Producer of Fulbright Students. Most recently, this designation was awarded for the 2022-23 academic year when UC Davis 11 undergraduate and graduate students were selected to receive Fulbright fellowships. During the 2018-19 academic year, UC Davis was also recognized as a top producer of U.S. Fulbright Students after 12 UC Davis students and alumni were awarded Fulbright fellowships—the largest group of Aggies ever awarded.
UC Davis U.S. Fulbright Students
2022-23 U.S. Fulbright Students
Aaron Anderson, Italy
Patrick Cunningham, Germany
Teja Dusanapudi, United Kingdom
Hope Fisher, Columbia
Diana Garcia, Mexico
Brittaney Key, Iceland
Anna Kristina Moseidjord, Columbia (Declined award)
Andrew Ngo, Mexico
Melissa Taha, Jordan (Declined award)
Christina Thomas, New Zealand
Michael Wheeler, Germany
2021-22 U.S. Fulbright Students
Trevor Brandon-Harris, Andorra
TIffany Chen, Vietnam
Meghan Crebbin-Coates, Netherlands
Tiger Garcia, United Kingdom
Hannah Rivera, Spain
Alisha Singh, Spain
2020-21 U.S. Fulbright Students
James Charles Rees, Fiji
Martha Emoly Larraine Delaney, Germany
Sage Lauwerys, Spain
2019-20 U.S. Fulbright Students

Kimberly Boyle, Netherlands
Cristina Fries, Argentina
Giulia Gallo, Belgium
Sarah Hart, Colombia
Araiba Khan, Malaysia
Elizabeth Lee, South Korea
Ashley Serpa-Fleck, Portugal
Jasmine Stoltzfus, United Kingdom
Tammy Tang, Taiwan

2018-19 U.S. Fulbright Students

Ashley Mae Bernardo, Malaysia
Olivia Coffman, Sri Lanka
Monserrat Garcia, Spain
Katelyn Guy, Mexico
Brian Lee, Taiwan
Gopika Mavalankar, Spain  
Maria Elena Sanchez Anguiano, Austria
Evelyn Vasquez, Mexico
Catherine Harvey, Spain
Scarlett Kingsley, Czech Republic
Daniela Peguero, South Africa 
Nicholas Robinson, Iceland

2017-18 U.S. Fulbright Students
Amanda Eke, Malta
Nina Fontana, Ukraine
Jennifer Hoover, India
Gillian Irwin, Indonesia
April Kersh, Germany
Joshua Paull, Colombia
Ana Skomal, Malaysia
2016-17 U.S. Fulbright Students
Natalie Boyd, Germany
Albion Fitzgerald, Italy
Courtney Jallo, Sri Lanka
Bradley Petkus, Switzerland
Estevan Sanchez, Morocco
Rebekah Solomon, Spain
2015-16 U.S. Fulbright Students
Caitlin Watt, Spain
Christine Sur, Indonesia
Cheng Su, China
Emily Moline, Spain
David Jefferson, Ecuador
Lacie Feller, Germany
Megan Ammirati, China
2014-15 U.S. Fulbright Students

Dena Clink, Malaysia
Katrina Lundahl, Nepal
Ahmad Raza, Spain
Jonathan Salerno, Tanzania

2013-14 U.S. Fulbright Students

Karl Frost, Canada
Jennifer Balachowski, France
Christopher Knight, Chile
Manasa Suresh, India
Jinni Pradhan, Nepal

2011-12 U.S. Fulbright Students

Annahita Sarcon, Spain, Medicine
Giovanna Montenegro, Germany, Comparative Literature
Daniel Eisenberg, Brazil, Engineering
Emelie Coleman, Comparative Literature
Karen Chu, Japan, Biology

2010-11 U.S. Fulbright Students

Richard Siegler, Rwanda, English
Barbara Zimbalist, Belgium, English
Zachary Steel, Chile, Ecology
Amber Roegner, Uruguay, Ecology
Katie Feilen, Indonesia, Anthropology
Kristy Deiner, Switzerland, Ecology

2009-10 U.S. Fulbright Students

Nicholas Sanchez, Chile, Comparative Literature
Nathan Carpenter, Senegal, History
Andre Bastos, Netherlands, Physical Sciences
Visiting (Non-U.S.) Fulbright Students
UC Davis has welcomed many non-US citizens through the Fulbright Foreign Student Program.
A mainstay of America's public-diplomacy efforts, the Fulbright Foreign Student Program brings citizens of other countries to the United States for Master's degree or Ph.D. study at U.S. universities or other appropriate institutions. The program has brought some of the world's finest minds to U.S. campuses and offers program participants insight into U.S. society and values.

Many foreign Fulbright grantees are early-career professionals who will return to take leadership positions in their home countries, often working at universities or in government service.
UC Davis Visiting Fulbright Students
2022-23
Zatil Afrah
Muhammad Naveed Anwar
Valentina Arevalo Arredondo
Francisco Jesus Bellido Leiva
Lotte Amelie Borkowski
Patricio Daniel Cruz y Celis Peniche
Huseyin Gocen
Diego Lopez Mateos
Arturo Oliver Guimera 
Sadia Gul
Adriana Hernandez Gonzalez
Nicolas Pandeli Jimenez Nicolis
Maria Kanwal
Ovais Ahmed Khan
Begum Koysuren
Ignacio Macedo Yapor
Mariana Munoz Araya
May Myo Myint
Oonagh Pretorius
Afshan Qamar
Maria Esperanza Rojo Jimenez
Muhammed Adil Salim
Lara Schroeder
Maria Magdalena Silaen
Michael Unger
Mirella Zaccheo
2021-22
Zatil Afrah
Muhammad Naveed Anwar
Patricio Daniel Cruz y Celis Peniche
Huseyin Gocen
Diego Lopez Mateos
Arturo Oliver Guimera 
Sadia Gul
Ignacio Macedo Yapor
Mariana Munoz Araya
Maria Esperanza Rojo Jimenez
Muhammed Adil Salim
Maria Magdalena Silaen
Mirella Zaccheo
2019-20 Visiting Fulbright Students
Sadia Gul
Pornpipat Kasemsap
Carlos Jose Feres Ducci
Sara Garcia Figuera
Oon Ha Shin
Francisco Jesus Bellido Leiva
Daniela Catalina Soto Negrete
Bernardo Adolfo Bastien Olvera
Arturo Oliver Guimera
Jorge Olmos Camarillo
Zatil Afrah
Diego Lopez Mateos
Patricio Daniel Cruz y Celis Peniche
Facundo Sebastian Molina
Nicolas Pandeli Jimenez Nicolis
Grace Gomez Quiroga
Laura Perilla-Henao
Silva Neris Romulo Leao
2018-19 Visiting Fulbright Students
Anisullah Baig
Ekaterina Zharinova 
Cameron Paul Birchall
Muhammad Farooq Hussain Munis
Fernando Aramburu Merlos
Bernardo Adolfo Bastien Olvera
Francisco Jesus Bellido Leiva
Carlos Jose Feres Ducci
Sara Garcia Figuera
Felix Alberto Gutierrez Zamit
Pornpipat Kasemsap
Oscar Salomon Kivinen
Arturo Oliver Guimera
Oon Ha Shin
Daniela Catalina Soto Negrete
Nopmanee Taechangam
Federico Zabaleta
Mzamo Lungani Shozi
2017-18 Visiting Fulbright Students
Fernando Aramburu Merlos
Bernardo Adolfo Bastien Olvera
Francisco Jesus Bellido Leiva
Mahmut Ceyhan
Chuong Thort
Carlos Jose Feres Ducci
Sara Garcia Figuera
Merve Gorguner
Felix Alberto Gutierrez Zamit
Kasemsap Pornpipat
Oscar Salomon Kivinen
Zsuzsanna Kovacs
Arturo Oliver Guimera
Juan Jose Polari
Oon Ha Shin
Daniela Catalina Soto Negrete
Nopmanee Taechangam
Federico Zabaleta
2016-17 Visiting Fulbright Students
Mahmut Ceyhan, Turkey
Merve Gorguner, Turkey
Pablo Tomas Silva Jordan, Chile
Pornpipat Kasemsap, Thailand
Felix Alberto Gutierrez Zamit, Uruguay
Juan Jose Polari, Argentina
Oscar Salomon Kivinen, Finland
Thort Chuong, Cambodia
Bettina Matti, Switzerland
Carlos Jose Feres Ducci, Chile
Sara Garcia Figuera, Spain
Oon Ha Shin, South Korea
2015-16 Visiting Fulbright Students
Felix Alberto Gutierrez Zamit, Uruguay, Agriculture
Pornpipat Kasemsap, Thailand, Agriculture
Oscar Salomon Kivinen, Finland, Mathematics
Juan Jose Polari, Argentina, Agriculture
Min Wen, China, Law
Kai Jia, China, Law
Jaime Moreno Garcia, Spain, Microbiology
2014-15 Visiting Fulbright Students
Nicolas Bambach Ortiz, Chile, Oceanography
Nicolas Cobo Lewin, Chile, Agriculture
Andreas Gavras, Greece, Engineering
Jihyun Park, South Korea, Economics
William San Martin Aedo, Chile, History
Sandra Marcela Cely Santos, Colombia, Environmental Sciences
Mahmut Ceyhan, Turkey, Engineering
Marcela Vilarino Pereda, Uruguay, Animal Science
Mohamed Youssef, Egypt, Religious Studies
Alvaro Ivan Hernandez Rodriguez, Colombia, Drama/Theater Arts
Emma Sherman, New Zealand, Biology
Camila Maria Bonilla Cedrez, Uruguay, Agriculture
Pablo Tomas Silva Jordan, Chile, Engineering
Niamh Murray, Ireland, Agriculture
Elizabeth Narvaez Cardona, Colombia, Education
2013-14 Visiting Fulbright Students
Hameed Ahmad Haqparwar, Afghanistan, Sociology
Nadia Antonella Valverdi, Argentina, Agriculture
Chun Wang Aaron Chan, Hong Kong, Biomedical Engineering
Merve Gorguner, Turkey, Engineering
Moonmoon Hiloidhari, India, Energy
Felix Klaus, Germany, Biology
Petra Vasko, Finland, Chemistry
Marcela Vilarino Pereda, Uruguay, Animal Science
Selin Yabaci, Turkey, Agriculture
Nicolas Neill Herrera, Chile, Physics
2012-13 Visiting Fulbright Students
Atheer Al Attar, Iraq, Engineering
Mohammad Al Boni, Syria, Computer Science
Ibatisam Al Mata'ni, Oman, Language Teaching
Razan Alkhayyat, West Bank, Public Administration
Bucher Almzain, Syria, Film/Cinema Studies
Jinan Al-Naqeeb, Iraq, Public Health
Mohammed Belhadj Larbi, Algeria, Physics
Mahmut Ceyhan, Turkey, Engineering
Sercan Ceyhan, Turkey, Engineering
Jose Joanico Freija De Jesus Soares, Timor-Leste, Geology
Sergiy Gogolenko, Ukraine, Computer Science
Iheb Guermazi, Tunisia, Architecture
Mariana Lemos De Moraes, Brazil, Animal Science
Noe Luis Hernandez, Mexico, Economics
Mahfoudh Oubadji, Algeria, Travel/Tourism