Congratulations to the 2017-18 Chancellor's Awards for International Engagement Honorees
The Chancellor's Awards for International Engagement recognize UC Davis faculty and staff members for outstanding international engagement in carrying out the university's mission of teaching, research and outreach.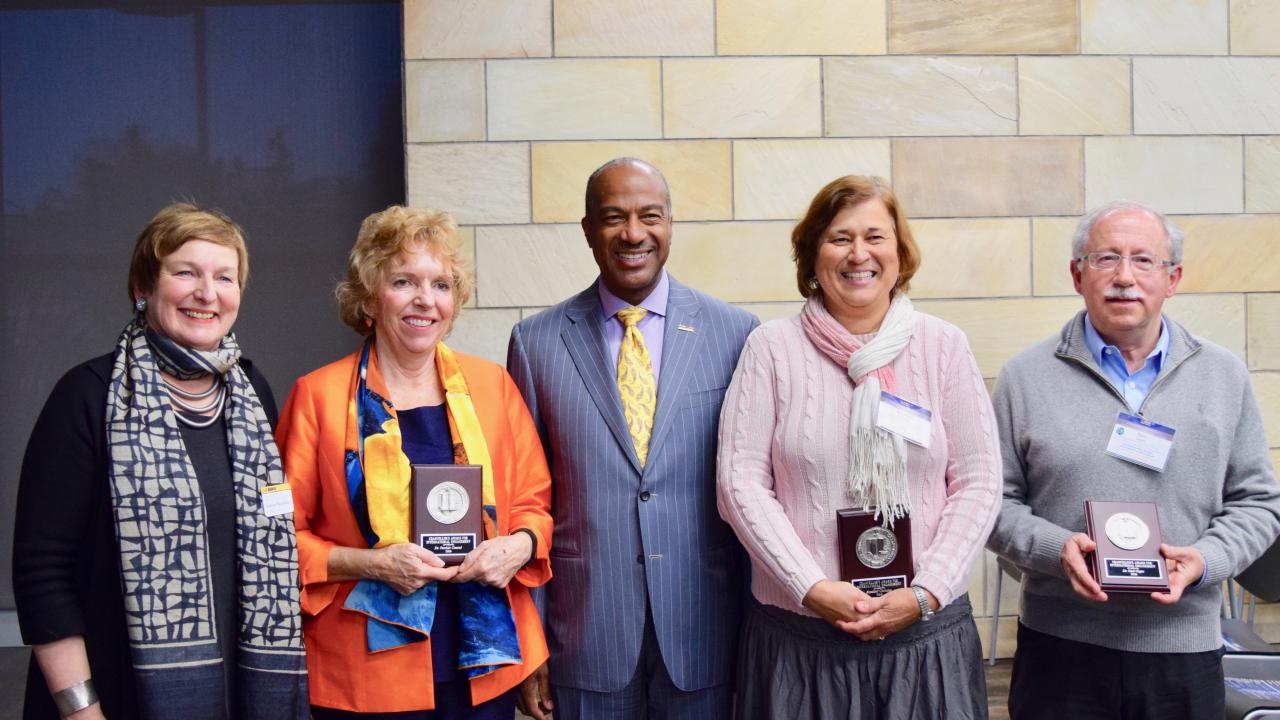 2017-18 Chancellor's Award for International Engagement Honorees
Rosalind Christian
An undergraduate advisor in the College of Engineering, Rosalind Christian turns the international dreams of her students into reality, supporting them in navigating a particularly complex academic curriculum and clearing paths that broaden their horizons.
Whether it's researching to match students with the right international experiences or contributing to advisory workshops and committees, Christian has made important international and study abroad experiences more accessible. A Biomedical Engineering student currently spending an entire year enrolled at a university in London is one of countless examples of Christian's advocacy at work.
One nominator touted Christian's innovation in advising as a promising sign for the future of one of the university's 13 "Big Ideas" Global Education for All, saying, "it will be achieved student by student, with this persistent attention to the details of real student lives and real academic plans, as well as through this collaboration between departments on campus, statewide, and internationally."
Patricia Conrad
An associate dean for Global Programs and professor of Parasitology in the School of Veterinary Medicine, and co-director of the University of California's Global Health Institute, Patricia Conrad has been internationally engaged at UC Davis for three decades. 
Her commitment to being global is apparent in her research and professional work, through her hundreds of publications and multidisciplinary international research. But Conrad is also training the next generation of researchers, health science students, and faculty—with the goal of improving the health of people, animals, and the environment through a One Health approach.
Recognized by her colleagues for embracing the interconnectedness of the world in advancing discovery and in meeting societal needs, while educating future global health leaders, one nominator put it, "Pat's approach to team building is constructed on a bedrock of respect, cultural sensitivity, and sharing—rather than owning—knowledge."
Paul Gepts
A distinguished professor of Plant Sciences in the College of Agricultural and Environmental Sciences, Paul Gepts engages students and scholars from numerous countries in research that spans continents and integrates both laboratory and field work.
Gepts, a multilingual native of Belgium, serves on thesis committees for students at universities around the world, boasts several international students and scholars in his lab, and almost half of his couple hundred research publications are because of international collaborations. 
His engagement with the world is useful for society, not just academia. A nominator, one of the many researchers Gepts has welcomed to his lab during his more than 30 years at UC Davis noted, "these trainings have significantly contributed to reducing the deficit of bean breeders in Africa and to fostering the image of UC Davis as a global leader. There are African bean scholars who may not have had an opportunity to research at UC Davis if not for Paul's engagements with them."
Read more about the 2017-18 Chancellor's Award for International Engagement Recipients
---