UC Davis Students Reimagine America in Global Context Through Art
There's a saying that goes "looking for the answer will only lead to more questions."
This could have been said in describing the experiences of University of California, Davis, students Sabrina Rose Lee, Bianca Medina, Marbles Jumbo Radio, and Jasmine Wade.
The four started with the query, "Why is it important to (re)imagine America in a global context?" Their initial thinking stood out among 47 applicants, earning them Global Affairs Creative Documentation Fellowships to attend this year's Imagining America Conference.
The fellows were then invited to respond to the prompt in any artistic medium to be exhibited in the lobby of the UC Davis International Center.
"Imagining America, and its emphasis on engaged humanities, offers a powerful opportunity for students to explore and share their experiences in this country in relationship to global dynamics," said Nancy Erbstein, academic assistant to the vice provost and associate chancellor of Global Affairs and director of Global Education for All. "After all, we really can't fully imagine America without also considering how it is shaped by, and shapes, the world more broadly."
In the process of considering America in a global context, the fellows met inspiring thinkers, explored avenues for creative expression, set goals for the future – and collected plenty of questions with answers worth searching for.
The Conference
Established in 1999, Imagining America is a network of university and community partners. "It supports, promotes and builds knowledge around both campus and social transformation," said Erica Kohl-Arenas, the organization's UC Davis faculty director. "It brings together scholars, activists, artists, teachers and students who care about social justice and the bold power of the arts, humanities, design and narrative approaches to community building."
Imagining America moved its headquarters to UC Davis in July 2017, recognizing the campus' strength in community-engaged research and its commitment to social justice.
The organization's progress-minded mission struck a chord with students like Jasmine Wade, a first year Ph.D. candidate in cultural studies.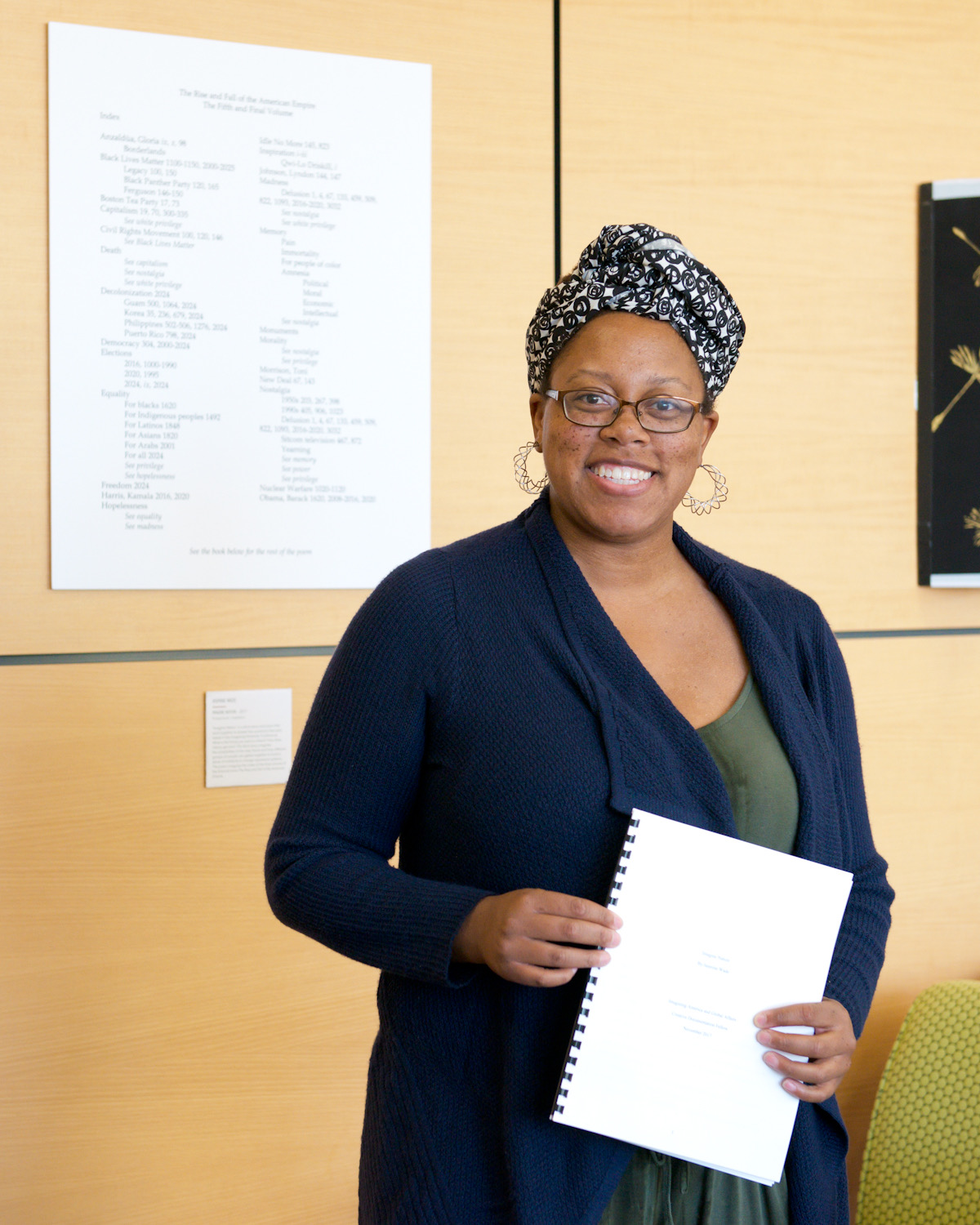 "I think it's important to envision new futures, especially with the current state of politics," she said. "It seems like a lot of activists and scholars are trying to figure out: How did we get here? Where are we going? And how can we figure out getting onto a different track, one that's going to be better and happier for more people?"
The Imagining America Conference is a space to do just that, featuring panels, performances, workshops, poster sessions, media installations and regional site visits, all within a theme of "Communities. Arts. Lands. Learning." This year's conference, held Oct. 12-14, was the first held on the UC Davis campus and drew close to 500 participants.
"The conference is open to all who are engaged in public scholarship, community based teaching, and learning work that draws on the methodologies of the humanities, arts, and design to address the pressing issues of our time," said Kohl-Arenas. "This includes individuals and organizations within and beyond universities and colleges, including all manner of artists, activists, community organizers and designers."
Sabrina Rose Lee, an undergraduate double majoring in film studies and community and regional development, counted the connections she made as among the most valuable aspects of the conference.
"There were some really amazing artists and activists that I got to interact with," she said. "It gave me this larger view into the possibilities for activism within higher education."
Wade echoed her sentiments, saying it was inspiring to see the number of scholars grappling with how to be more responsible in their research.
"I need to think about how to bring the voices of the people I'm studying into my work in a way that is meaningful – how to get back to the communities that I say I'm trying to serve with my scholarship rather than just using them to get a tenure track job," she said.
Creativity at Work
Awash in all the inspiration and ideas the conference had to offer, the four fellows then turned to their creative medium of choice to articulate why it's important to reimagine America in a global context.
"The process was difficult," Lee said. "The ideas of what I wanted to do before the conference had completely changed by the time that I had walked away from it."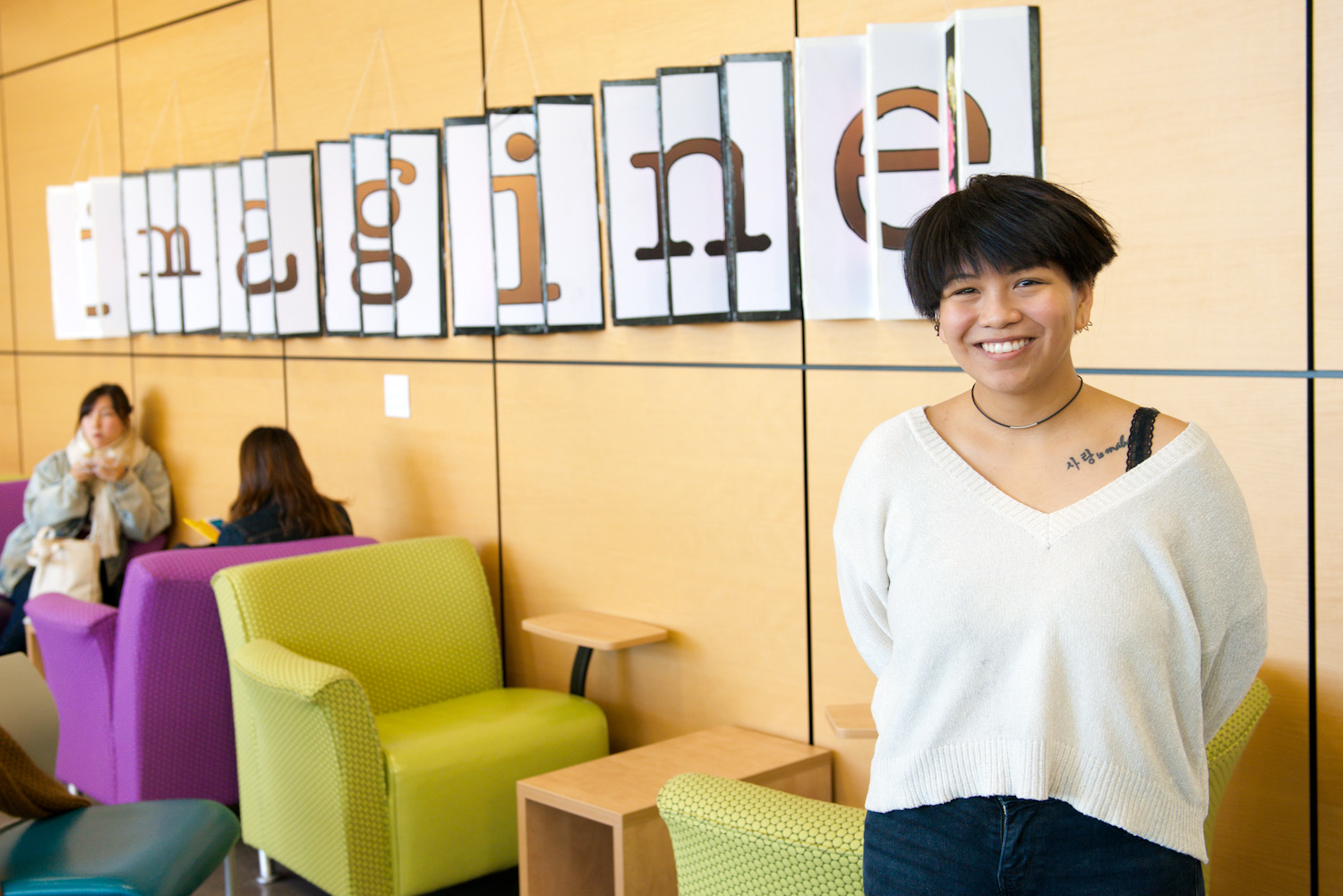 Another challenge came from trying to schedule creativity between the pressures of mid-quarter academic work. Wade said, "It was intense, but also a really good experience, one that I'll try to replicate for myself in the future. It forced me to stay in touch with my fiction."
The fellows' finished pieces were as impressive in variety as they were in quality.
Individually, there were an animated video, three-dimensional collage, short story, watercolor image and sculpture. Collectively, they invited audiences to linger in the newly opened International Center and leave with their own questions.
"We absolutely saw people in the lobby regularly looking at the installations, reading the short stories and watching the video," Erbstein said of the exhibit, which was open until Jan. 31.
Lasting Impact
The fellows' post-conference outlook is full of a renewed commitment to engaging the community through creative expression.
Wade, who is in her first year of Ph.D. work, plans to revisit the short story she authored in the near future. She said the prompt pushed her writing to become more detached from reality than is her normal style. And after strategizing with other scholars at the conference, she sees a path to merge both her artistic and academic interests by writing fiction and scholarly articles in equal measure.
For Lee, the conference led to goals for after she graduates this spring.
"I started acknowledging my own voice in art," she said.
The realization led her to apply to graduate programs in community arts organizing. She hopes facilitating community arts will also help her pin down her favorite medium — she produced both an animated film and a three-dimensional collage for the Imagining America exhibit.
Long-term, Lee hopes to pursue a career in community-based documentary work. She wants to empower people to portray their own stories rather than set the narrative. And always, keep rooted in what the world is, in order to ask what it could be.
---
About Global Affairs at UC Davis
Global Affairs brings the world to UC Davis, welcoming more than 8,400 international students, scholars and leaders, and hosting programs that inspire global curiosity, understanding and engagement. Compelled by the valuable outcomes of thinking globally, we make transformative opportunities a reality by supporting the thousands of students and faculty studying and researching internationally-and by facilitating collaborations that tackle the world's most pressing problems through more than 150 international partnerships.

Putting our vision of a UC Davis community that engages, thrives, and leads in this interconnected world into action, Global Affairs is now in pursuit of an ambitious goal: Global Education for All.
Primary Category
Tags