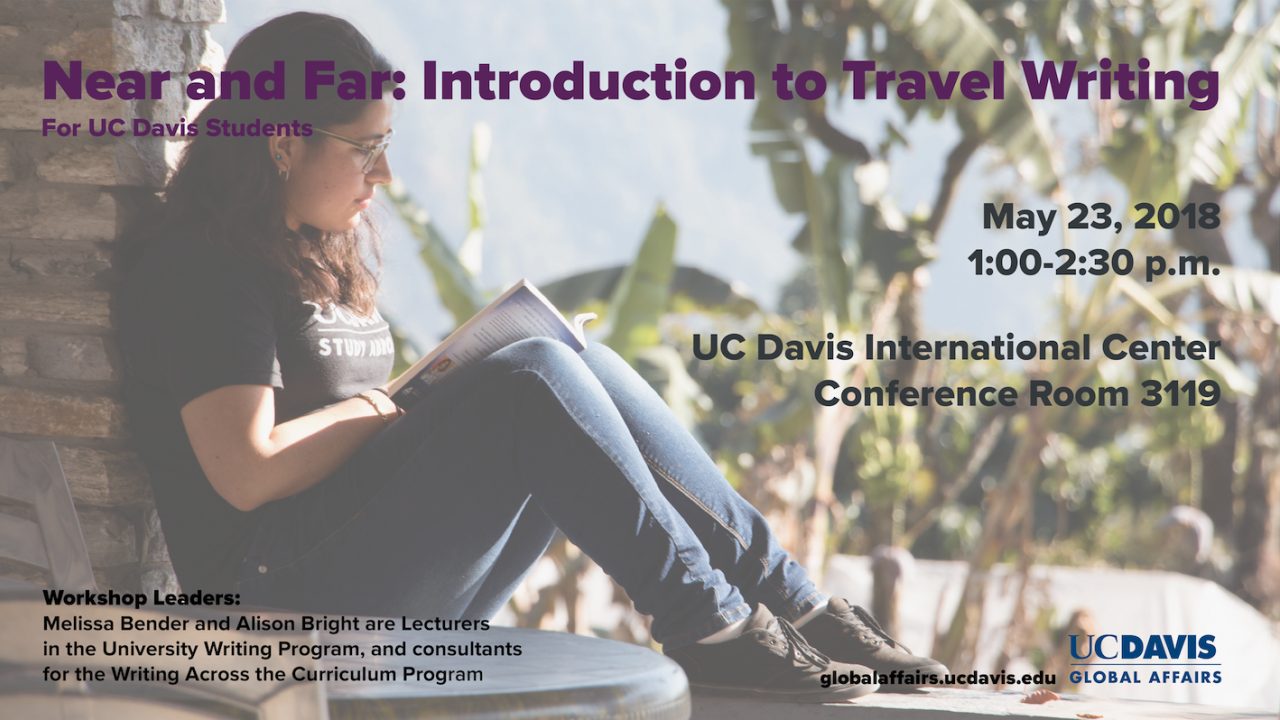 Location
International Center Conference Room 3119
Travel Writing for UC Davis Students
Have you recently returned from travels or do you have plans to travel this summer? Are you new to the United States? Do you enjoy encounters with other cultures and take interest in learning about other people?
Writing about your travels is a great way to process your cross-cultural experiences, ensure that the memories of your journeys won't fade, and share your experiences with a larger audience.
In this workshop, we'll learn about the characteristics of effective travel writing, discuss venues for sharing your travel writing with readers, and do some practice exercises to get the travel writing juices flowing.
Please bring a laptop or pen and paper to the workshop.
Workshop Leaders
Melissa Bender and Alison Bright are Lecturers in the University Writing Program, and consultants for the Writing Across the Curriculum Program.  
Program Partners
UC Davis Global Affairs, Study Abroad, and the University Writing Program.
---
About Global Affairs
Global Affairs brings the world to UC Davis, welcoming more than 8,400 international students, scholars and leaders, and hosting programs that inspire global curiosity, understanding and engagement. Compelled by the valuable outcomes of thinking globally, we make transformative opportunities a reality by supporting the thousands of students and faculty studying and researching internationally—and by facilitating collaborations that tackle the world's most pressing problems through more than 150 international partnerships.
Putting our vision of a UC Davis community that engages, thrives, and leads in this interconnected world into action, Global Affairs is now in pursuit of an ambitious goal: Global Education for All.
About Study Abroad
UC Davis Study Abroad integrates global opportunities into the academic experience, supporting 1,300 students each year in studying across 30 countries, exploring the world, and gaining valuable skills and competencies. In the quest for Global Education for All, Study Abroad goes beyond traditional programs to meet the academic, personal and professional needs of UC Davis' diverse and driven student body.
As a part of Global Affairs at UC Davis, Study Abroad aims to inspire global curiosity, understanding, and engagement.
---
UC Davis International Center
The UC Davis International Center is located on the corner of Russell Blvd and California Ave at 463 California Ave, Davis, CA 95616.
For more information, please see the International Center on the campus map. For parking information surrounding the International Center, see the campus parking map.
Event Category
Tags