Preparing the next generation of global problem solvers
Committed to educating the next generation of problem solvers and change makers, UC Davis is working towards Global Education for All—a goal aiming to provide 100% of our undergraduate, graduate, and professional students with global learning opportunities that change their lives and our world.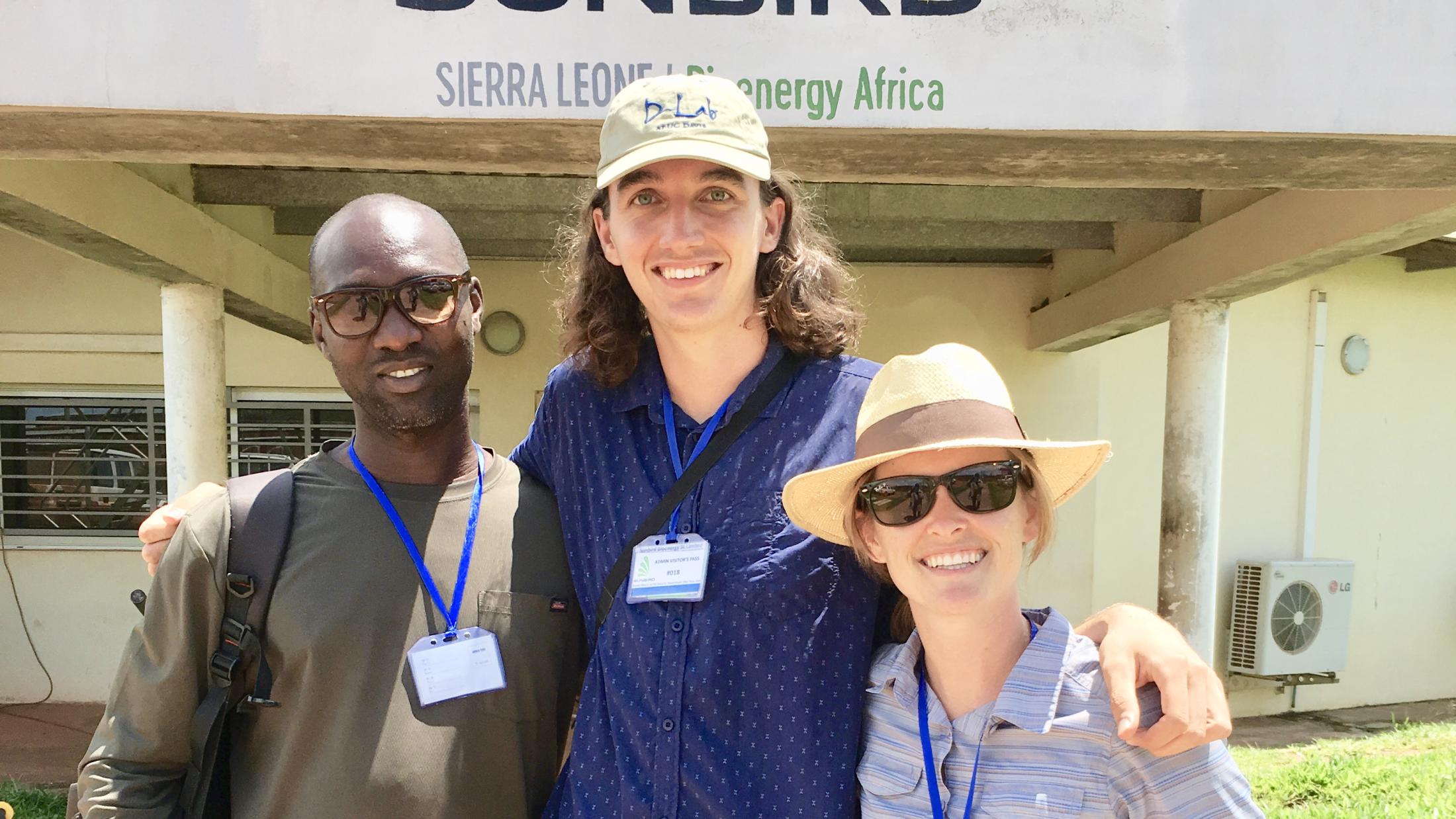 Developing global skills, in our backyard and beyond
Our students are developing skills needed to succeed in this interconnected world through global academic, experiential, and leadership opportunities such as:
study abroad and away,

internships, externships, and traineeships,

virtual international collaborations,

hands-on learning and research that take on global challenges in our backyard and beyond,

living and learning communities that connect culturally diverse students with each other and the resources of our global campus,

and more

.
Global Education for All UC Davis Students


 
Learning, experiencing, and leading for a better tomorrow
Global learning transcends a single course or a single experience as it is acquired by undergraduate, graduate, and professional students through multiple and cumulative experiences.
Pathways of Global Learning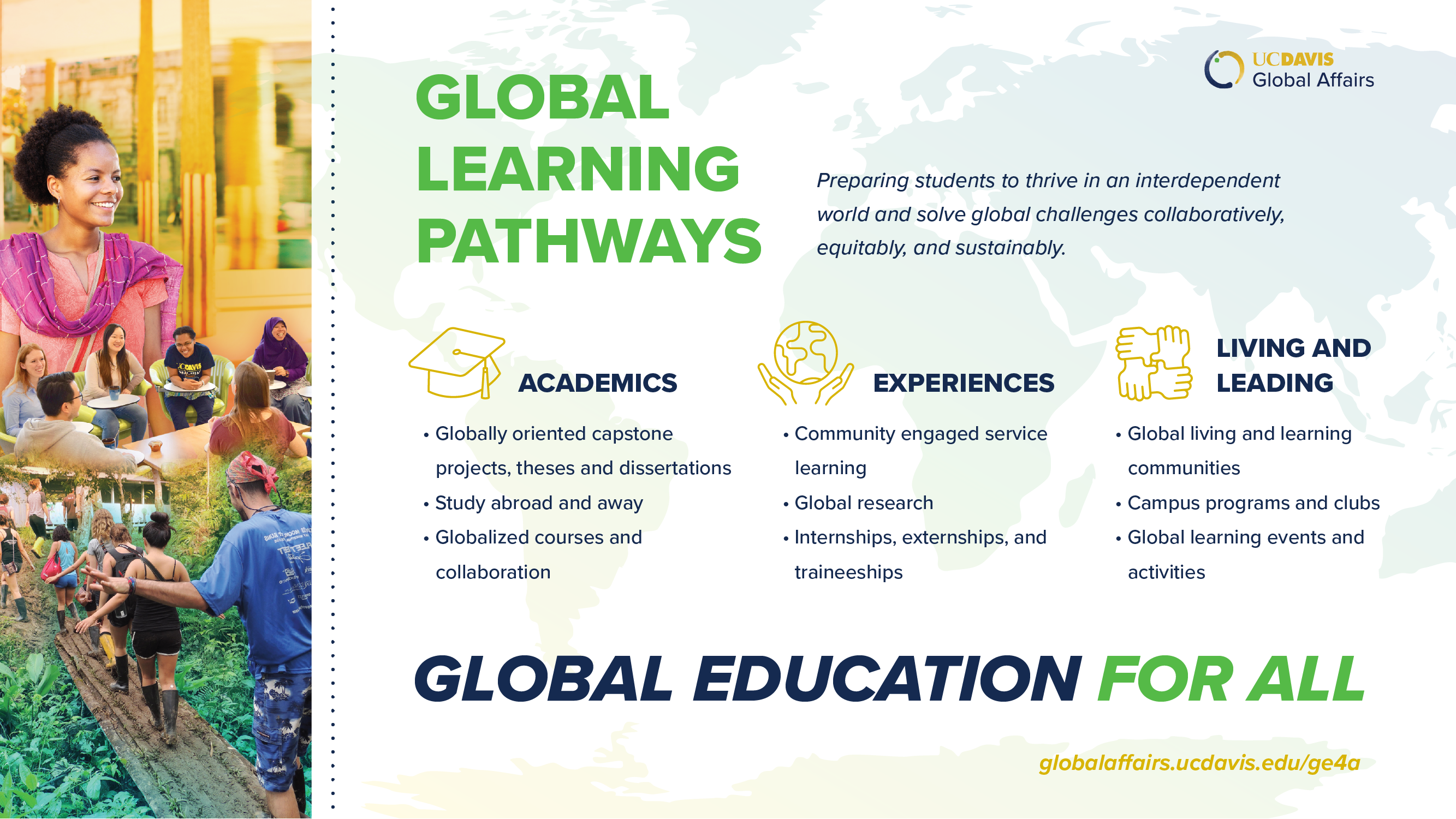 Global Academics

E.g., globally oriented capstone projects, theses, and dissertations; study abroad and away; globalized courses and collaboration

Global Experiences

E.g., community engaged service learning; global research; internships, externships, and traineeships

Global Living and Leading

E.g., global living and learning communities; campus programs and clubs; and global learning events and activities
Outcomes of Global Learning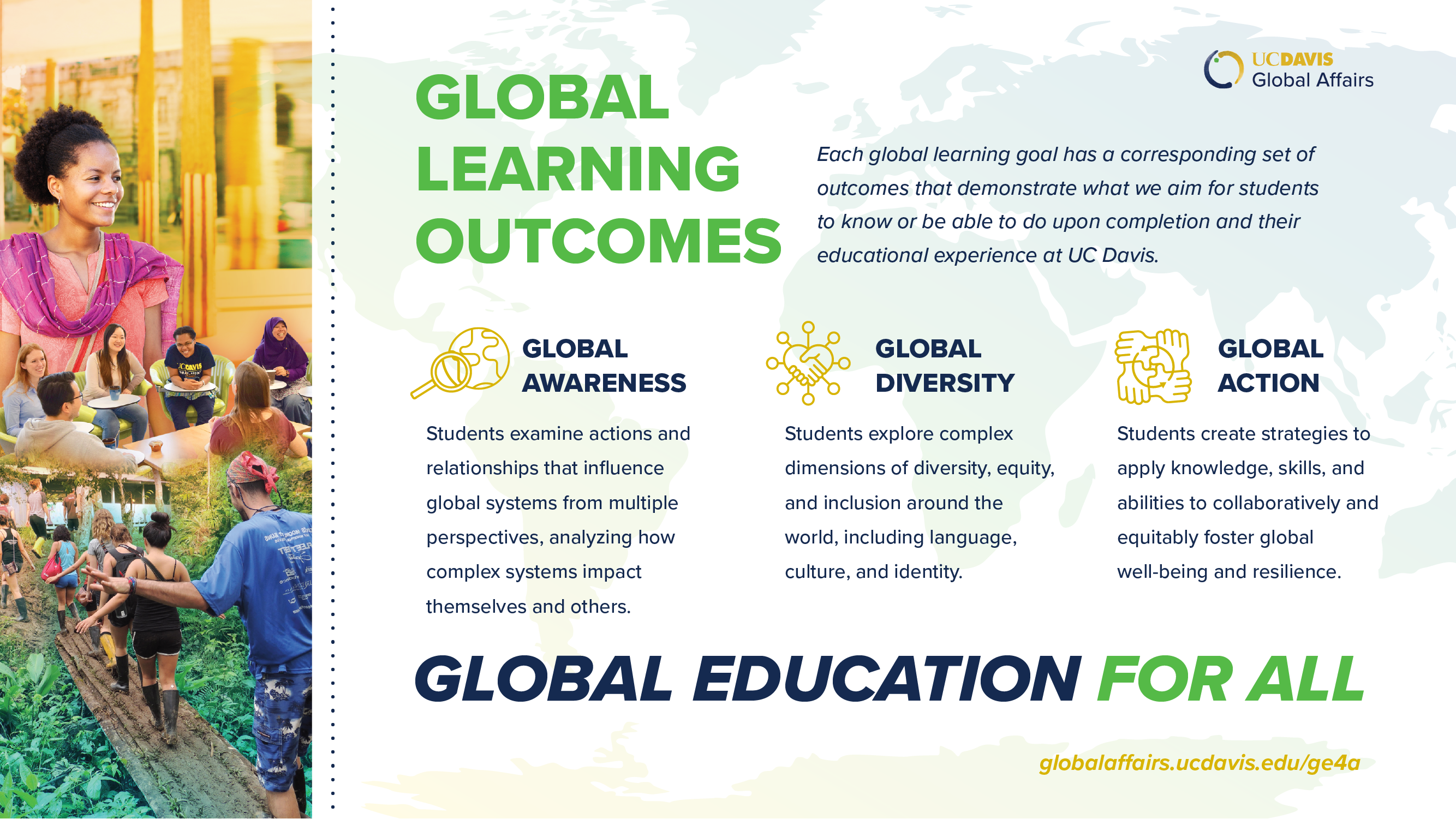 Global Awareness 

Students examine actions and relationships that influence global systems from multiple perspectives, analyzing how complex systems impact themselves and others.

Global Diversity

Student explore complex dimensions of diversity, equity, and inclusion around the world, including language, culture, and identity. 

Global Action

Students create strategies to apply knowledge, skills, and abilities to collaboratively and equitably foster global well-being and resilience. 
 
Learn more about the UC Davis Global Learning Outcomes



Seeking solutions for a better world
Global learning is vital in preparing UC Davis students with the skills, knowledge, networks, and attitudes needed to thrive in various roles: as educators, entrepreneurs, artists, scholars, leaders, community members, and more. The benefits are twofold:
Students gain life-shaping experiences and valuable critical thinking and professional skills that set them apart from other graduates. 

Simultaneously, students are addressing urgent global environmental, public health, social and economic challenges, among others.
What does global learning look like? Meet students engaging in global learning
 
What Makes UC Davis' Approach Different?
We're adapting to meet student needs
UC Davis is committed to Global Education for All of our more than 39,000 students—the next generation of global problem solvers and change makers. We're aiming to build upon existing opportunities while creating new ones so that global learning experiences are accessible and are tailored to meet the diverse needs, academic pursuits, personal commitments, and professional interests of students.
We're driven by real-world opportunities and challenges
As the world becomes more interconnected and the job market becomes more global, we know acting locally and acting globally are not mutually exclusive.
Now more than ever, students need to be prepared with the skills to navigate and make a difference in a interdependent, and sometimes tumultuous, world. This is why UC Davis connects students to communities of practice that are solving global challenges in local communities in the U.S. and abroad through the power of collaboration.
We're embracing our global campus
UC Davis is a global campus, bringing together people from more than 140 countries and countless backgrounds. The global perspectives of our students, faculty, scholars, staff, alumni and supporters combined with robust research and community networks offer endless opportunities to engage right here on campus, in local communities, or in countries around the world.
Contact Information
As we educate the next generation of global problem solvers—and identify supporters of key resources—we invite alumni, community members and supporters to partner with us in ensuring every student has the opportunity to receive a global education. To learn more about giving opportunities, please see our Global Affairs Giving page.
Nancy Erbstein, Ph.D.
Associate Vice Provost of Global Education for All, Global Affairs
Associate Professor in Residence, School of Education
Faculty Affiliate, Center for Regional Change
(530) 754-6913
globaleducationforall@ucdavis.edu