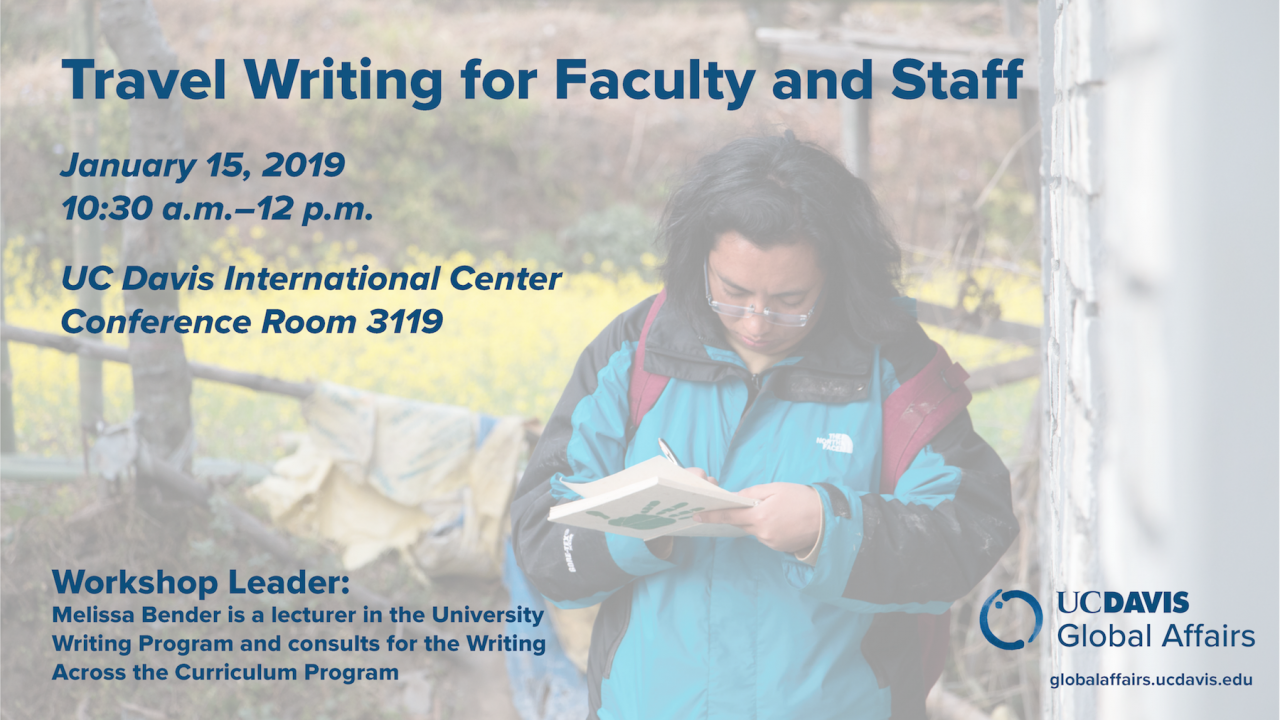 Location
International Center, Room 3119
Travel Writing for Faculty and Staff
Have you led a UC Davis Study Abroad program? Traveled recently for work or research? Do you have travel stories that you'd like to share with the UC Davis community or an even broader audience? Do you want to learn how to turn your travel experiences into a polished essay that appeals to readers? 
If so, please join us for this travel writing workshop that is designed specifically for faculty and staff (graduate students are also welcome). 
In this workshop, we'll learn about the characteristics of effective travel writing, discuss strategies for addressing non-academic audiences, consider how to draw readers in with an engaging opening, and do some practice exercises to get the travel writing juices flowing.
Please bring a laptop or pen and paper to the workshop.
Workshop Leader
Melissa Bender is a Lecturer in the University Writing Program and a consultant for the Writing Across the Curriculum Program.  
Program Partners
UC Davis Global Affairs and the University Writing Program.
UC Davis International Center
The UC Davis International Center is located on the corner of Russell Blvd and California Ave at 463 California Ave, Davis, CA 95616.
For more information, please see the International Center on the campus map. For parking information surrounding the International Center, see the campus parking map.
---
About Global Affairs
Global Affairs brings the world to UC Davis, welcoming more than 10,000 international students, scholars and leaders, and hosting programs that inspire global curiosity, understanding and engagement. Compelled by the valuable outcomes of thinking globally, we make transformative opportunities a reality by supporting the thousands of students and faculty studying and researching internationally—and by facilitating collaborations that tackle the world's most pressing problems through more than 150 international partnerships.
Putting our vision of a UC Davis community that engages, thrives, and leads in this interconnected world into action, Global Affairs is now in pursuit of an ambitious goal: Global Education for All.
Event Category