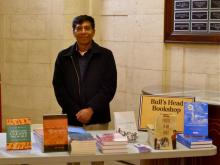 Fulbright U.S. Scholar Program
2003-04
Guatemala
vmontejo@ucdavis.edu
Native American Studies
Bio
Professor Emeritus Montejo is a nationally and internationally recognized author and intellectual.  In 2000, his Voices from Exile: Violence and Survival in Modern Maya History obtained the National Award: Race, Ethnicity and Politics, American Political Science Association, in Washington D.C. In 2003, Victor Montejo obtained a Fulbright Scholars Award, Research and teaching in Guatemala, Universidad del Valle de Guatemala, Central America.

From 2004-2008, Montejo won a seat in the Guatemalan national Congress. From this post he was named Minister of Peace during of the Guatemalan Presidency and worked out the National Program for Reparation to the victims of the Armed conflict in Guatemala. He was president of the Congressional Commission of Indigenous People. As a Congressman he created passed the law of the National Day of Indigenous People of Guatemala, and proposed the Law Initiative: Ley de Consulta a Pueblos Indigenas.

Some of his other publications includes: Testimony: Death of a Guatemalan Village (1987); Maya Intellectual Renaissance: Critical Essays on Identity, Representation, and Leadership. Austin: University of Texas Press (2003); Popol Vuh: Sacred Book of the Mayas(1999); Q'anil: man of Lightning, University of Arizona Press (2002). (In press).
Program Type
Year
Country