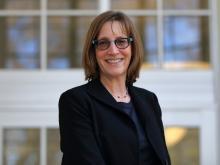 Library
Bio
UC Davis University Librarian and Vice Provost of Digital Scholarship MacKenzie Smith is one of the nation's leading experts in digital libraries, information technology and digital knowledge management. As head of the UC Davis Library, one of the top academic research libraries in North America, she has defined and implemented a strategy to integrate digital resources and information technology with traditional library services to better serve the UC Davis academic community. 
As vice provost of digital scholarship, Smith defines and leads major university initiatives involving information technology, data science and informatics, data governance, knowledge management, research computing and digital publishing. She helped launch and continues to oversee the UC Davis Data Science Initiative, which supports research in every discipline and coordinates with data technology and analytics units across the university. She also co-chaired the committee to define the university's new data science academic program. At a national level, Smith oversees UC Davis' participation in large-scale digitization initiatives, such as the Google Books initiative.
Smith has been a research fellow for the Creative Commons organization, where she worked on intellectual property policy for scientific research data and advocacy for open science. She has served on the National Technical Information Services advisory board of the U.S. Department of Commerce, and the boards of the Corporation for Digital Scholarship, ORCID, the UC Press and other organizations dedicated to creating efficient and effective access to knowledge.  
Prior to coming to UC Davis, Smith spent nearly three decades working at the libraries of Harvard University and the Massachusetts Institute of Technology, where she played a critical role in helping those universities adapt their libraries and research and teaching programs to the emerging technology of the digital age. At MIT, Smith also led the development of DSpace, the open source software platform for digital archives, now used by hundreds of universities worldwide and managed by a non-profit organization.
She holds degrees from the University of Washington and The University of Chicago.
Program Type
Year
Country