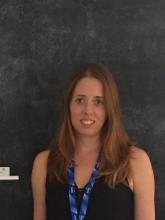 Fulbright Visiting Scholar Program
2018-19
Spain
laura.monsalve@uv.es
Education
Bio
University of Valencia
Faculty Host: Yvette G. Flores
Faculty Host Contact: ygfloresortiz@ucdavis.edu
Laura Monsalve Lorente received her Ph.D. in Education from the University of Valencia. Associate Professor in the Department of Didactics and School Organization of the University of Valencia.
Researcher in the Curriculum, Resources, and Educational Institutions Research Group and the Educational Policies, Interculturality and Society Research Group at  the University of Valencia.
She has done research visiting professor at the University of Almería, School of Education (Exeter, UK), the University del Salento (Italy), in the University of Verona (Italy), the University of California Davis (USA) and the University of Matanzas (Cuba).
Her research fields are didactics and school organization, initial teacher training, curriculum development and innovation, and gender diversity and equality in STEM. Scholarships and mentions: Honorary Appointment at University of Exeter (UK) and Visiting Professor Status at University of Verona (Italy).
During the academic year, 208/2019 has been in Chicana and Chicano Studies as a Fulbright Postdoctoral Research developing at the Center for the Advancement of Multicultural Perspectives on Science (ADVANCE) the project "Institucional Transformation to Build and Sustain a Diverse Community of University Students in STEM.
Program Type
Year
Country