Connecting with the World
UC Davis Global Affairs invites you to pull up a virtual chair as we host an online global conversations series, Connecting with the World. Join the conversation as we explore global and international topics, challenges, and opportunities that merge disciplines, cross borders, and connect you with the world.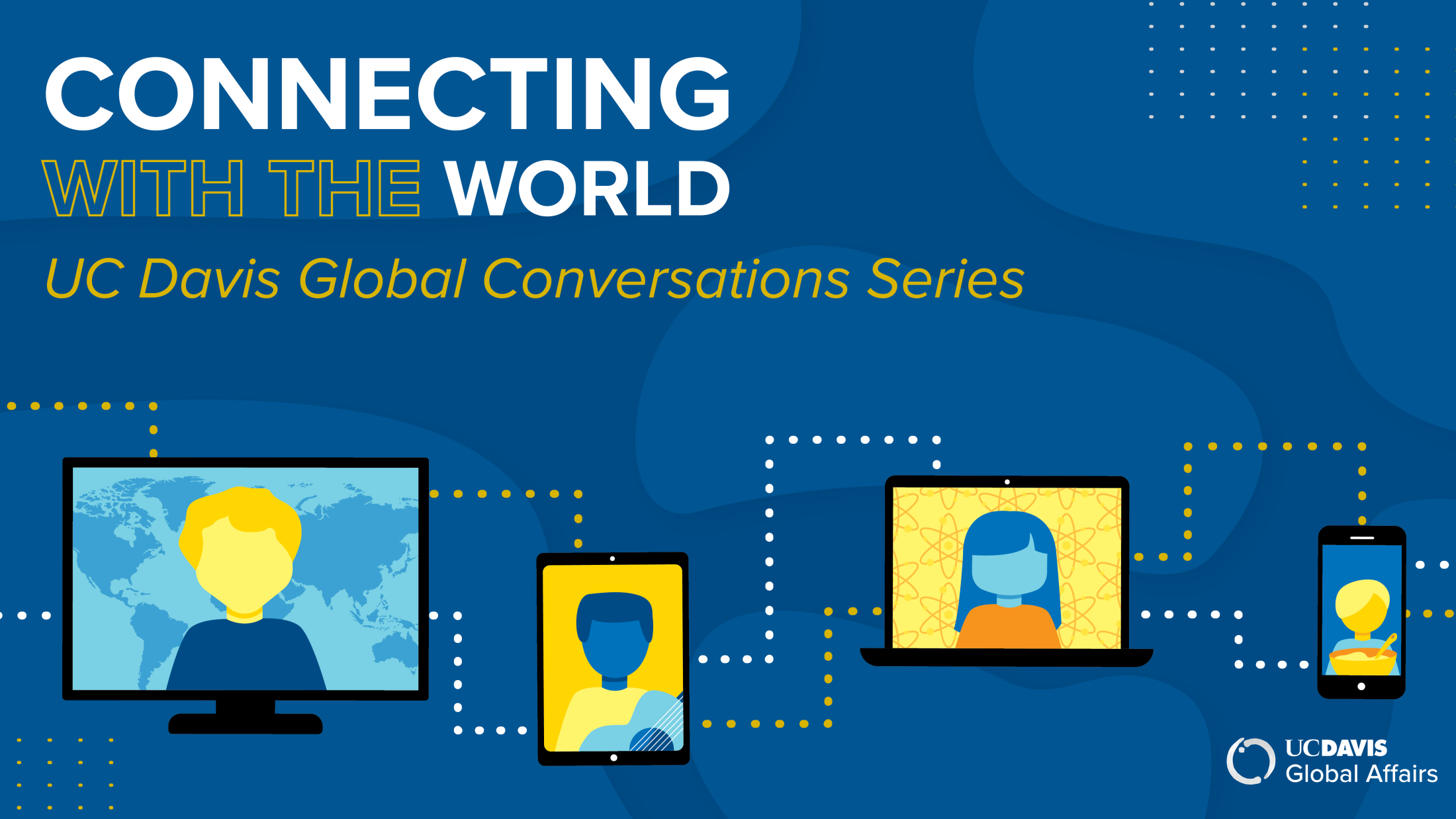 What is the UC Davis Global Conversations Series? 
The UC Davis Global Conversations Series is an ongoing events series hosted by Global Affairs with the purpose of facilitating knowledge-sharing among UC Davis experts and external experts on global topics. The series will feature presentations and discussions with global and international leaders on global topics, challenges and opportunities—including those outlined in the UN Sustainable Development Goals (SDGs).
Schedule of Events
More events coming soon. 
Past Events
COVID-19's Impact on Global Agricultural Supply Chains and the Challenges Ahead
Date/Time: Tuesday, June 16, 2020, 9:00 – 10:00 a.m. PDT
Co-hosted by: UC Davis Global Affairs, UC Davis World Food Center, in collaboration with ISAM-International School of Agri Management
The ongoing COVID-19 pandemic has disrupted agricultural supply chains within the United States and worldwide. A panel of experts from academia, industry and the non-profit sector will discuss how the pandemic has disrupted global supply chains in the near-term. Looking ahead, they will offer an assessment of COVID 19's long-run impact on global agricultural trade and how we can prepare for similar crises in the future.  It is also part of the Campus Global Theme: Food for Thought: Feeding Ourselves, Feeding the Planet. 
Panelists include: 
Flavio Alzueta, former vice president and chief marketing officer, GLOBALG.A.P and professor at ISAM-International School of Agri Management in Almería, Spain
Shakira Phiri,  investment promotion officer at the Ministry of Industry, Trade and Tourism in Malawi, and 2018-19 Mandela Washington Fellow at UC Davis
Gloria E. Polanco, General Manager of FRUTESA (Frutas Tropicales de Guatemala, S.A.) 
Daniel Sumner, Frank H. Buck, Jr. Distinguished Professor, Department of Agricultural and Resource Economics, director of the University of California Agricultural Issues Center
Moderated by: 
Ermias Kebreab, director, of the UC Davis World Food Center, associate dean of the College of Agricultural and Environmental Sciences Global Engagement, and professor and Sesnon Endowed Chair in animal science, UC Davis
---
Contact Information
Jolynn Shoemaker
Director of Global Engagements
Global Affairs
jmshoemaker@ucdavis.edu