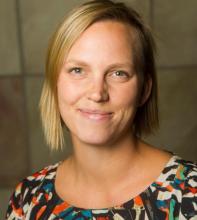 Fulbright U.S. Scholar Program
2006-07
Sweden
ckbrinkley@ucdavis.edu
Human Ecology
Bio
Dr. Brinkley's research centers around One Health, a concept that considers health shared among humans, animals and the environment. She is a veterinarian (VMD) and a city planner (PhD) who conducts spatial analyses to inform practice. Her work focuses on how agricultural and urban lands interface, and the public health consequences. She is pioneering a new method of building cities and protecting farmland. Her work is used internationally by the United National Food Agriculture Organization as well as local communities to guide plans and policies.
Dr. Brinkley's lab group currently works on two main research projects investigating community food systems and district energy. Their research seeks to answer the broad question: how do food systems reorient diets and land-uses? Their findings are published in leading planning journals. 
Her research is supported by grants through the National Science Foundation CAREER Award (2018); PEW Charitable Trusts, and National Institute of Health Environmental Health Sciences.
Please visit Dr. Brinkley's webpage for more information about research and publications.  
Program Type
Year
Country