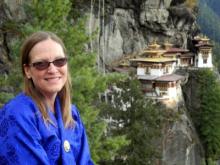 Environmental Science and Policy
Bio
Karen Beardsley is the Director of Global Professional Programs and Director of the Hubert H. Humphrey Fellowship Program in Global Affairs at UC Davis.
Her research includes modeling environmental impacts of land use policies in California and integrating wildlife conservation and land use planning practices in Kenya. Karen is a Geographer and GIS expert who earned her master's degree in Geography from UC Santa Barbara and complete her Ph.D. in Geography at UC Davis. 
Karen received a two-semester Fulbright Core Scholarship to develop geographic information system (GIS) curriculum, teach GIS, and train local faculty to teach GIS at the Royal Thimphu College in Bhutan. You can read further about her previous work in Bhutan as well as her future plans with her Fulbright Scholarship in the following article: Building GIS Education in Bhutan. 
Program Type
Year
Country