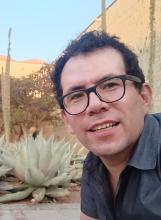 Agricultural and Resource Economics
Bio
Centro de Investigacion y Docencia Economicas A.C.
Faculty Host: Aaron Smith
Faculty Host Contact: asmith@primal.ucdavis.edu
Hector M. Nuñez is Associate Professor in the Department of Economics at Center for Research and Teaching Economics (CIDE) in México. He is an economist and received his MS degree in Economics from the Universidad Nacional de Colombia and his PhD degree in Applied and Agricultural Economics from the University of Illinois at Urbana-Champaign. He holds currently a Fulbright-García Robles visiting researcher position in UC Davis. Hector's research focuses on energy and environmental economics. His research has been published among others in Energy Economics, Energy Policy, The Energy Journal and Agricultural Economics. Currently, Hector serves as editor of the Latin American Economic Review. Hector has served as a consultant at National and International Institutions and Organizations including ECLAC, World Bank and the Ministry of Economy of México.
---
Last updated: 2019
Program Type
Year
Country