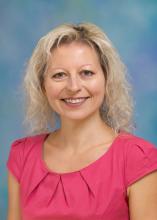 Director of Environmental Awareness Center in Belarus
Hubert H. Humphrey Fellowship Program
2016-17
Belarus
asushko@ucdavis.edu
Bio
Alla Sushko is the Founder and Director of the Brest Environmental Awareness Center (BEAC) in Belarus which she has been leading for the past 8 years. Throughout these years, she has been highly successful in bringing people together and developing programs to educate the public on environmental issues. Through the BEAC project activities, she established trusted and ongoing working relationships with USAID, Pact, the US Embassy in Belarus, and the German Marshall Fund of the United States, which has resulted in a number of grants and funding for the BEAC during its years of operation.

Ms. Sushko has a Bachelor's Degree in Biology and Teaching from the Brest State University (Belarus), and a Master's degree in Environmental Studies from The Evergreen State College (USA). She has been a member of the International Association for Impact Assessment since 2007. Additionally, she is an active Board Member of the Ecodom NGO in Belarus and had served two terms as a Board Member of Green Alliance Belarus.

In the 2016-2017 Humphrey Fellowship Program year, Ms. Sushko will focus on professional development in the field of Corporate Sustainability, Life Cycle Assessment, Environmental Impact Assessment, and Sustainable Development.
Program Type
Year
Country