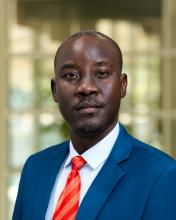 Natural Resources, Environmental Policy and Climate Change
Bio
Mr. Ojja Kapaya studied philosophy and humanities at Consolata Institute of Philosophy in Nairobi-Kenya, affiliated with the Pontifical Urbaniana University (Rome, Italy).  He holds a bachelor's degree in philosophy from the Pontifical Urbaniana University and a diploma in philosophy and religious studies.  After earning his degrees, Mr. Kapaya worked for eight years in the Wildlife Conservation Society (WCS) South Sudan Program, managing a community conservation and livelihood program to enhance food and economic security to combat poaching and other illegal activities. The overall goal of this program is to promote biodiversity conservation and environmental protection in South Sudan. In addition, Mr. Kapaya has been instrumental in conducting applied research to inform conservation interventions in South Sudan. Prior to attending the Humphrey program, he was the Socioeconomic Research & Livelihoods team leader.
Mr. Kapaya's professional interests include community-based natural resource management, education outreach programs, land use planning, organizational management, grant management, project planning and management, monitoring and evaluation, and conflict mitigation.
During his fellowship year, Mr. Kapaya wants to learn more about sustainable natural resource management, environmental policy and climate change. In addition, he wants to gain more knowledge about the key principles for the implementation of a successful community-based wildlife conservation program in South Sudan. 
Available for:
Speaking on technical topic (South Sudan natural resources, environmental protection, conservation leadership, applied research, organizational management, community based conservation, education outreach programs) 
Related SDGs: 
        
---
Last updated: 2019
Socioeconomic Research & Livelihoods Team Leader, Wildlife Conservation Society (WCS) South Sudan Program
Program Type
Year
Country