Preparing and Celebrating Global Aggies
For almost 20 years, UC Davis has celebrated the benefits of international education and worldwide exchange during International Education Week, an initiative of the U.S. Departments of State and Education. The national week brings opportunities to participate in cultural and educational programming here at UC Davis and share your international stories and experiences on social media using #GlobalAggies.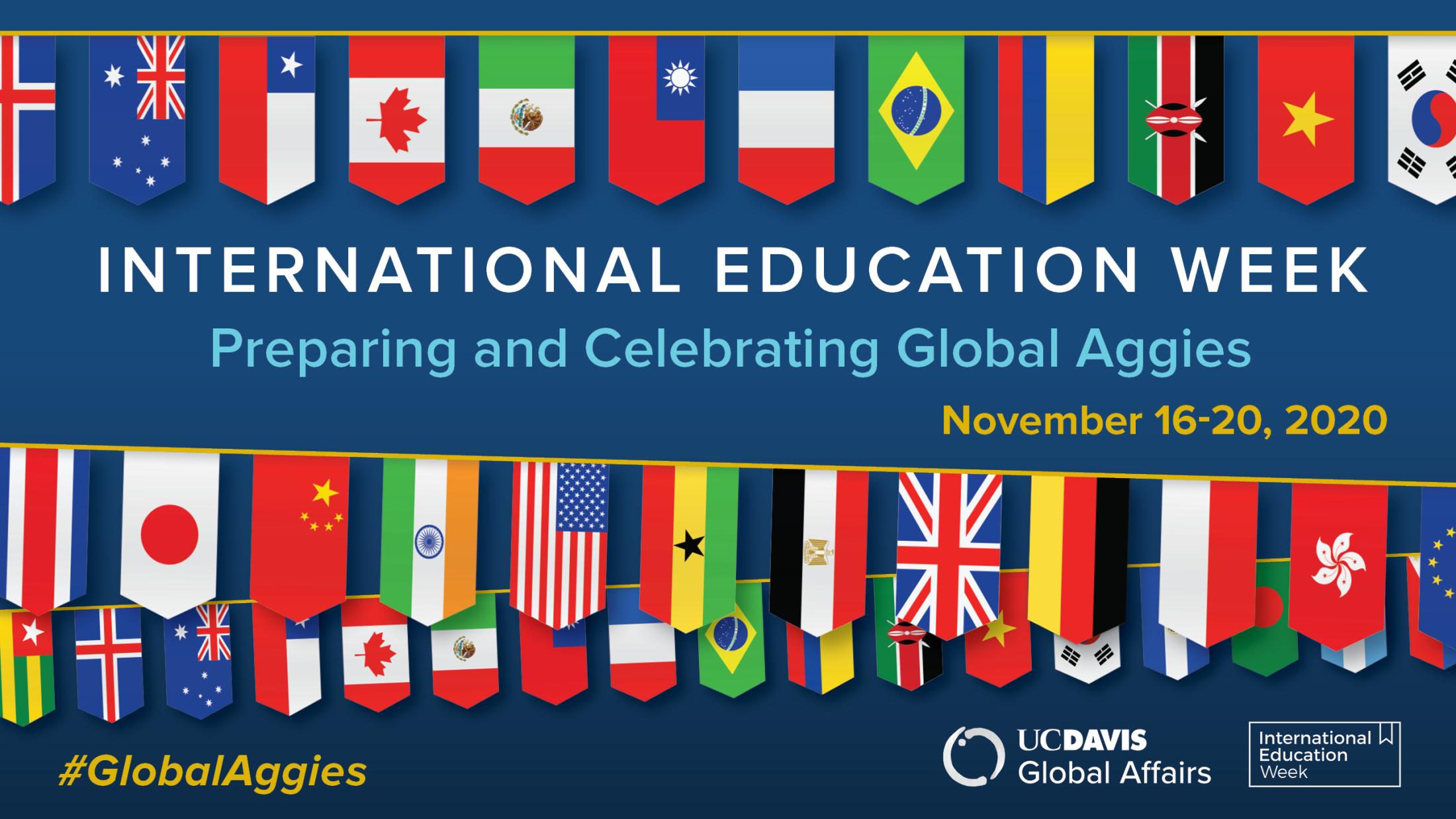 What is International Education Week?
International Education Week (November 16-20, 2020) is a national week of the U.S. Department of State and U.S. Department of Education that celebrates the benefits of international education and exchange worldwide.
Global Affairs encourages students, faculty, and staff to share their international stories and experiences on social media using #GlobalAggies.
International Education Week at UC Davis
At UC Davis, International Education Week often brings opportunities for students, staff and faculty to explore international programming such as:
global learning events, across campus, for connecting with students, scholars, and families;
information sessions for Study Abroad and workshops for grant writing for international field work; and
film previews and discussions.
International Education Week Schedule of Events
Free Brunch Program – Virtual
Date/Time: November 18, 2020, 3:00 p.m. - 6:00 p.m.

Sponsored by: Wholistic Art

2020 Campus Global Theme Grant Recipient
As part of the university's Campus Global Theme, "Food for Thought: Feeding Ourselves, Feeding the Planet," we are hosting an integrative event that will center people of color who disrupt and innovate within the food system. We invite you to the virtual table. 
Produced by artist Charlyn Griffith-Oro, the Free Brunch Program (FBP) in its latest iteration draws inspiration from the Black Panthers' Free Breakfast program and radical homesteading practices held in MOVE philosophies. Participants are invited to reimagine mutual aid and solidarity in the globalized world of the 21st century. Special guests will share musings, the study and practice of food liberation, the growth of a system seeded from mutuality and care. The FBP brings together those working through strategies for transformation.
Participants who register at least 2 weeks in advance will be provided with a FREE.S.A. (Free & Sovereign Agriculture) box of food products to use prior to and enjoy during the event. Don't worry if you register later; you can still become a subscriber and receive a box.
This event draws on ancestral, artistic, experiential, and academic knowledge about food supply chains—taking the Campus Global Theme seriously in its goal of engaging a massive community of eaters! Graduate student Charlotte Glennie and Professor Catherine Brinkley have supported this Wholistic.art event. Because food insecurity is a problem that affects so many students, there will be outreach and special invitations extended.