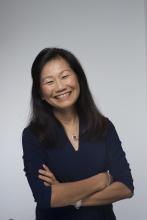 CEO, NUS Enterprise, National University of Singapore
2018 International Research Conference at UC Davis Speakers
2018-19
Singapore
Bio
Lily Chan is the chief executive officer of NUS Enterprise at the National University of Singapore (NUS). In this role, Chan is responsible for architecting a comprehensive innovation and entrepreneurship ecosystem for the university, encompassing entrepreneurial education and venture development.
Under her stewardship, NUS Enterprise has become known for its NUS Overseas Colleges (NOC) program, which has placed more than 2500 students in overseas start-up internships.  NOC alumni have founded more than 350 companies, leading the Straits Timesto cite the program as "the single most important development to boost the start-up movement [in Singapore]."    
Chan also has overseen the establishment of BLOCK71, an initiative that has helped aggregate Singapore's start-up community and turned an old industrial building into what The Economistcalls "the world's most tightly packed entrepreneurial ecosystem."  As an ecosystem builder and global connector, BLOCK71 locations have since been set up in San Francisco (2015), Jakarta (2017) and Suzhou (2017), to bridge Southeast Asia's entrepreneurial community with key overseas markets. 
More recently, BLOCK71 has become the location for strategic accelerators focusing on key industries in Singapore, including: Innovation Cybersecurity Ecosystem at BLOCK71 with Singtel Innov8, focused on cybersecurity, and Port Innovation Ecosystem Reimagined @ BLOCK71 with MPA, aimed at the maritime and port industries.   
Prior to joining NUS in 2006, Chan held positions as managing director of investments at Bio*One Capital Pte Ltd, and general manager (Singapore) and director of product development (USA) for Genelabs Diagnostics Pte Ltd in Singapore.   
Chan has held leadership positions in government, academia and industry for more than 25 years, ranging from initiating start-ups and venture investments, to active Board involvement in many start-up companies. She currently sits on national-level committees on enterprise and innovation.  
Program Type
Year
Country