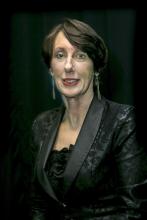 Bio
Jenny Dixon is deputy vice-chancellor of strategic engagement at the University of Auckland. She is responsible for international education and international relations, government and stakeholder engagement, alumni relations and development, and Pacific strategy and recruitment. She has oversight of the North Asia Centre for Asia-Pacific Excellence, hosted by the University of Auckland in partnership with the universities of Otago, Victoria (Wellington) and Waikato, to enhance New Zealand's business engagement and cultural understanding with the region.  Dixon also chairs the board of the New Zealand Institute for Pacific Research, a research consortium of three New Zealand universities.  She represents the university on the New Zealand - U.S. Council.
Dixon leads a number of university and external bodies, including the University's Creative Thinking Board, an initiative that fosters arts-led creativity in academic programmes. She represents the university on several international organisations, including Universitas 21 (U21), Association of Pacific Rim Universities (APRU) and Asia-Pacific Association for International Education (APAIE). Dixon leads the U21 Senior Leaders' Group and is chair of the APRU Asia-Pacific Women in Leadership steering committee.
Dixon joined the University of Auckland in 2001 as professor of planning, having previously held academic positions at Massey University and the University of Waikato, following an early period as an urban planner in local government and consultancy. Additionally, she has previously held the positions of head of the School of Architecture and Planning and dean of Creative Arts and Industries at the University of Auckland.  Her research has focused on urban development and policy, environmental governance and sustainable design. Throughout her career, she has maintained strong interdisciplinary interests in research collaborations with a particular focus on the built environment.
Deputy Vice-Chancellor (Strategic Engagement), University of Auckland
Program Type
Year
Country