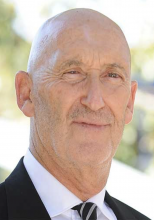 Director, University of California Humanities Research Institute
2018 International Research Conference at UC Davis Speakers
2018-19
United States
Bio
David Theo Goldberg is the director of the University of California Humanities Research Institute, the University of California system-wide research facility for the human sciences and theoretical research in the arts. He also holds faculty appointments as professor of criminology, law and society, comparative literature and anthropology at UC Irvine, and is a fellow of the UCI Critical Theory Institute.
As a leading scholar of critical race theory, Goldberg's work ranges over issues of political theory, race and racism, ethics, law and society, critical theory, cultural studies and, increasingly, digital humanities. 
From 1990 to 2000, he was professor at Arizona State University, where he directed the School of Justice Studies from 1995 to 2000. He co-founded the Humanities, Arts, Science and Technology Advanced Collaboratory (HASTAC) to promote partnerships between the human sciences, arts, social sciences and technology and supercomputing interests for advancing research, teaching and public outreach. Currently, he is co-leading the building of the MacArthur-UCHRI Research Hub in Digital Media and Learning at UC Irvine, an on-site and virtual research facility designed to promote field-building in the area.
He has authored numerous books, including The Threat of Race (2008); The Racial State (2002) and Racial Subjects: Writing on Race in America (1997). He also has edited or co-edited many volumes, including A Companion to Gender Studies (2005); A Companion to Racial and Ethnic Studies (2002) and Between Law and Culture: Relocating Legal Studies (2002).
Earlier in his career, Goldberg produced independent films and music videos (some of which aired on MTV), and co-directed the award-winning short film on South Africa, The Island.
A native of South Africa, Goldberg earned degrees in law and economics from the University of Cape Townbefore earning a Ph.D. in philosophy from the City University of New York in 1985.
Program Type
Year
Country