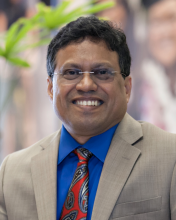 Bio
Prasant Mohapatra is the vice chancellor for research at UC Davis. 
In this role, Mohapatra oversees the university's annual research funding portfolio (about $783 million), and leads the university's corporate research relations and translation of UC Davis research into knowledge and technology of significant public benefit.   
Other leadership positions Mohapatra has held at UC Davis include, dean of graduate studies and vice provost of graduate education, associate chancellor, interim vice provost and chief information officer, and chair of the computer science department. He held the first Tim Bucher Family Endowed Chair in the Department of Computer Science from 2009-2013, and has remained a professor in the computer science department.
Mohapatra has led multiple large-scale collaborative projects. He was the lead researcher for the Multi-University Research Initiative (MURI) from the Army Research Office, the UC Davis lead researcher for the Collaborative Technology Alliance (CTA) and the thrust leader for a Cybersecurity Research Alliance (CRA) award.
In addition, Mohapatra led a National Science Foundation funded project for mentoring underrepresented undergraduate students. He is the principal investigator of an NSF grant for "Bridge to Doctorate," an initiative to facilitate and train underrepresented minority groups to pursue doctorate studies in STEM areas. He has received funding from the Mellon Foundation to explore the transformation of the graduate admission process for the holistic evaluation to increase graduate student diversity.
Currently, Mohapatra has seven patents and has published about 350 research papers and has been cited more than 10,000 times. He has received several best paper awards and has delivered distinguished lectures all over the world. He has graduated 33 doctoral degree students and 25 master's degree students. Mohapatra is a fellow of the American Association for the Advancement of Science and an elected fellow of IEEE, the world largest professional organization dedicated to advancing technology.
Mohapatra received his bachelor's degree from National Institute of Technology (NIT), Rourkela, India, his master's degree from the University of Rhode Island and his doctoral degree from Pennsylvania State University.  He has received outstanding alumni awards from both NIT, Rourkela and Pennsylvania State University.
Vice Chancellor for Research at UC Davis
Program Type
Year
Country