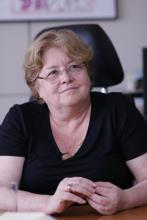 Bio
Concepta "Connie" Margaret McManus Pimentel is a professor at University of Brasilia and works with conservation, characterization and use of animal genetic resources as well as landscape genetics.
Additionally, she is currently director of International Affairs at The Brazilian Federal Agency for Support and Evaluation of Graduate Education (CAPES) as well as a Level 1A Researcher at the National Counsel of Technological and Scientific Development (CNPq) in the area of animal sciences. She is currently member of the Brazilian Academy of Sciences.
She has served as vice-coordinator of the National Institute of Science and Technology (INCT) in Genetic-Sanitary Information of Brazilian Livestock (INCT- Pecuária) since 2008. To date, she has published 292 articles in scientific journals, four books, 19 book chapters, and more than 500 abstracts in different congresses and has been invited to speak at numerous congresses in Brazil and abroad. 
Pimentel has already supervised 52 master´s degrees, 22 doctorate  degrees and 10 post-doctoral researchers. She also has been a member of approval boards of over 70 master's and 35 doctorate's thesis and 24 qualifications. She has supervised more than 50 Scientific Initiation works and 28 other works of research and extension projects.
In 2006, she won the Brazilian Animal Breeding Society award for best work in the area of ​​small ruminants during the 8th World Congress on Genetics Applied to Animal Production and in 2009 she won the Research Prize of the Federal District in the Cerrado, Environment and Agrarian area of ​​the Federal District Research Support Foundation. In 2013 she received the title of commander of the Order of Merit of Veterinary Medicine of the Brazilian Society of Veterinary Medicine.
Pimentel holds a bachelor's degree in agricultural science from University College Dublin, a master's degree in genetics and animal breeding from the University of Edinburgh and a Ph.D. in genetics and animal breeding from Oxford University, with a postdoc at the University of Sydney, Australia.
Director of International Affairs at The Brazilian Federal Agency for Support and Evaluation of Graduate Education
Program Type
Year
Country