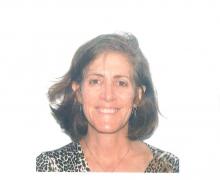 Countries and Regions Cluster Lead, Office of International Science and Engineering, National Science Foundation
2018 International Research Conference at UC Davis Speakers
2018-19
United States
Bio
Jessica Robin serves as the Countries and Regions Cluster Lead in the Office of International Science and Engineering (OISE) at the National Science Foundation (NSF).  
In this role, Robin manages a team of program directors in all aspects of international representation for NSF. Robin also chairs the foundation-wide Integrated Research Advanced by Interdisciplinary Science and Engineering (RAISE) working group and has been actively involved in developing the Growing Convergence Research at NSF funding opportunity.  In addition to OISE, she has worked in the Mathematical and Physical Sciences and Geosciences directorates at NSF.  
Robin has more than 20 years of professional experience leading people of diverse backgrounds, expertise, and work styles to successfully partner on international cross-cutting science and education initiatives. These experiences include working across all fields of science and engineering and bringing together government, higher education, non-profit and private sectors.
Prior to joining NSF, she worked at NASA Goddard Space Flight Center and was an adjunct lecturer at the University of Maryland, Baltimore County.  At Goddard, she managed international soil research and education initiatives for NASA Earth science programs.  Her research integrated field and satellite data with computer models and focused on how natural and human-made changes affect different environments.       
Robin's educational experiences range from giving presentations to, and developing research projects with, K-12 students around the world, conducting teacher training workshops and teaching university courses in soil science and geography.  Additionally, she developed soil science curricula for the GLOBE program and Cornell University and co-authored the Basic GAPS software and manual. At NSF, she also works on expanding international research opportunities for students and early career researchers. 
Robin received her doctoral degree in geographical sciences from the University of Maryland, College Park, and earned master's of science, master's of professional studies and bachelor's degrees from Cornell University.  She has lived in Argentina, Uruguay, Indonesia and Scotland and is fluent in Spanish.  She also has served as a U.S. Embassy Science Fellow in Peru and as a Peace Corps volunteer in Bolivia.     
Program Type
Year
Country