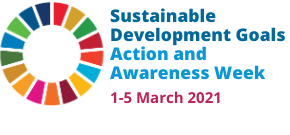 Addressing Global Challenges
As a land-grant university, UC Davis is engaged in a mission of teaching, research, and service for the greater public good. 
Recognizing the connections between local and global, UC Davis is working to address the most pressing social and environmental problems of our time, while directly supporting social mobility to achieve a more equitable society in California and beyond. 
UC Davis has joined United Nations (UN) networks: the University Global Coalition (UGC), the U.S. Chapter of the UN Sustainable Development Solutions Network (SDSN USA), and the UN Academic Impact (UNAI) generating opportunities for matching the expertise at UC Davis with funding and partnerships to collaboratively find solutions for global challenges. Committed to solving some of today's most pressing challenges—near and far—UC Davis signed the Association of Public and Land-grant Universities' (APLU) Declaration on University Global Engagement. 
What are the UN Sustainable Development Goals (SDGs)?
The Sustainable Development Goals (SDGs) are a set of ambitious goals, targets and indicators adopted by all United Nations (UN) member states in 2015, as part of the 2030 Agenda for Sustainable Development.
The SDGs are broad in scope, address the root causes of poverty, and the universal need for development that works for all people. The 17 SDGs and 169 targets that are included in this agenda seek to mobilize all UN member states to take concrete steps to achieve sustainable development across economic, social, and environmental dimensions.  
SDG Action and Awareness Week Opportunities
The University Global Coalition, in partnership with the State University of New York, is proud to declare March 1-5, 2021 the first annual UN Sustainable Development Goals Action and Awareness Week. The purpose of this week is to promote awareness of the SDGs among students in higher education and inspire them to take action in furtherance of the goals on their campuses and in their local community. 
In celebration of the inaugural week, UC Davis Global Affairs encourages students, faculty, and staff to attend virtual events. UC Davis is hosting several events during SDG Action and Awareness Week. Please see the Schedule of Events below. We also encourage you to visit University Global Coalition to find the full range of activities on its a calendar of events, open to all UC Davis students and students around the world.    
UC Davis SDG Action and Awareness Week Schedule of Events
Wednesday, March 3, 2021
SDG Coffee Hour for the UC Davis Community
UC Davis Global Affairs, the Sustainability office, and Office of Diversity, Equity and Inclusion invite faculty, staff, students, and campus affiliates to join upcoming Coffee Hours on the SDGs over Zoom to share about their work contributing towards the Sustainable Development Goals (SDGs), connect and engage with others, and learn more about new opportunities, including UC Davis' Voluntary University Review of engagement with the SDGs. 
March 3, 2021, 10-11 a.m. (PST)
UC Davis and Earth University Students Partner to Address UN SDG 2: Zero Hunger
UC Davis and Earth University are working in partnership to address SDG 2: Zero Hunger as part of the University Global Coalition (UGC) Decade of Action Initiative. UC Davis SDG student interns and Earth University students are collaborating to host a student-oriented symposium to highlight efforts on SDG 2: No Hunger, including the work being done at both universities and the student farms on each campus. Questions and topics covered during both segments will include issues about student involvement and how students can contribute towards the SDG Agenda in their own communities.
March 3, 2021, 1-2 p.m. (PST)

Resources
Thursday, March 4, 2021
Students Addressing UN SDG 6 - Clean Water & Sanitation: Perspectives from Newcastle University and UC Davis
In partnership with Newcastle University in England, UC Davis Global Affairs is proud to present a panel event addressing SDG 6: Clean Water and Sanitation. Panelists, including students and faculty, will share their work, reflect on what they have gained by engaging with the work of others, and impart other key learnings. This event is open to the public. 
March 4, 2021, 9-10:30 a.m. (PST)
International Connections Reception
Global Affairs invites the UC Davis community for an evening of networking and celebration of globally-engaged faculty, staff, and scholars. We will announce the winners of the Chancellor's Awards for International Engagement, and Excellence in Teaching in Study Abroad Awards, and acknowledge the recipients of or participants in the following Global Affairs programs: Seed Grants for International Activities, Grants for Advancing Sustainable Development Goals, and Global Education for All Steering Committee and Fellows.
March 4, 2021, 5-6 p.m. (PST)
Upcoming Events
International Women's Day: Peacemakers Around the World with Author Barbe Chambliss, March 7, 2021, 2-3:30 p.m. (PST)

Join the Davis and Sacramento United Nations Association chapters and the Davis Brand of the American Association of University Women for a free virtual celebration of International Women's Day 2021 with Barbe Chambliss, author of Women Peacemakers - What We Can Learn From Them, who will share stories of remarkable women who have made the world a better place through their courage and leadership. Stories from Asia, Africa, the Americas, and the Middle East will illustrate major challenges faced and inspiring accomplishments achieved by ordinary women around the world. The presentation will conclude with a Q & A.

World Food Center Universities Fighting World Hunger Summit, March 25-26, 2021

The World Food Center will co-host the virtual student summit 2021 of Universities Fighting World Hunger (UFWH) alongside the University of California Global Food Initiative and the Nutrition Policy Institute, University of California Division of Agriculture and Natural Resources in partnership with the Hunger Solutions Institute at Auburn University. The summit's theme is One Health. One Planet.

UC Davis Spring Forum on the SDGs, May 19, 2021
Tags