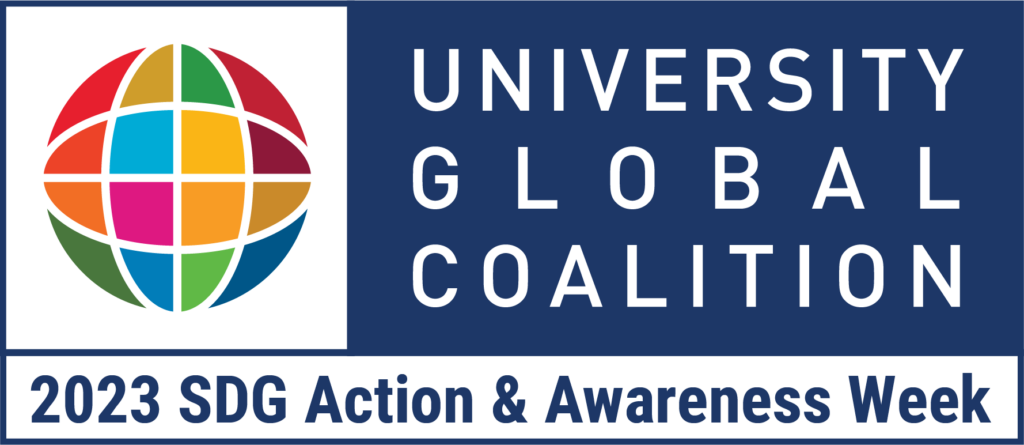 Addressing Global Challenges
As a land-grant university, UC Davis is engaged in a mission of teaching, research, and service for the greater public good. 
Join us for SDG Action and Awareness Week, March 6–10, 2023
Recognizing the connections between local and global, UC Davis is working to address the most pressing social and environmental problems of our time, while directly supporting social mobility to achieve a more equitable society in California and beyond. 
UC Davis has joined several networks working to advance the United Nations (UN) Sustainable Development Goals (SDGs) within higher education: the University Global Coalition (UGC), the U.S. Chapter of the UN Sustainable Development Solutions Network (SDSN USA), and the UN Academic Impact (UNAI) generating opportunities for matching the expertise at UC Davis with funding and partnerships to collaboratively find solutions for global challenges. Committed to solving some of today's most pressing challenges—near and far—UC Davis signed the Association of Public and Land-grant Universities (APLU) Declaration on University Global Engagement. 
What are the UN Sustainable Development Goals (SDGs)?
The Sustainable Development Goals (SDGs) are a set of ambitious goals, targets and indicators adopted by all United Nations (UN) member states in 2015, as part of the 2030 Agenda for Sustainable Development.
The SDGs are broad in scope, address the root causes of poverty, and the universal need for development that works for all people. The 17 SDGs and 169 targets that are included in this agenda seek to mobilize all UN member states to take concrete steps to achieve sustainable development across economic, social, and environmental dimensions.  
SDG Action and Awareness Week Opportunities
The University Global Coalition, in partnership with the State University of New York, is proud to declare that March 6–10, 2023, UN Sustainable Development Goals Action and Awareness Week. The purpose of this week is to promote awareness of the SDGs among students in higher education and inspire them to take action in furtherance of the goals on their campuses and in their local community. 
In celebration of this year's SDG Action and Awareness Week, UC Davis Global Affairs encourages students, faculty, and staff to share their campus events that fall within the SDG framework. We also encourage you to visit University Global Coalition to find the full range of activities on its calendar of events, open to all UC Davis students and students around the world.    
UC Davis SDG Action and Awareness Week Events
Have an event to add? Email Tom Rosen-Molina at jtrosenmolina@ucdavis.edu and we may add it to our schedule of events below.
Monday, March 6, 2023
Students Taking on Hunger: Ideas from Around the World on Addressing Food Insecurity and Inadequate Nutrition 
As part of the 2023 UN SDGs Action and Awareness Week, UC Davis is hosting a student-run virtual symposium on the UN Sustainable Development Goals and how students are leading efforts to address SDG 2: Zero Hunger. Join us as UC Davis SDG Interns interview student speakers from around the world about encouraging local agricultural production, reducing food waste, and engaging communities to facilitate food distribution.
Monday, March 6, 2023, 1–2 p.m. (PST)
Watch the event
Thursday, March 9, 2023
7th Annual International Connections Reception
Global Affairs invites the UC Davis community for a celebration with globally-engaged faculty, staff, and scholars.
Chancellor Gary S. May and Global Affairs Vice Provost and Dean Joanna Regulska will honor the winners of the Chancellor's Awards for International Engagement and Excellence in Teaching of Study Abroad awards. We will also acknowledge the recipients of the Global Affairs Seed Grants for International Activities, Grants for Advancing Sustainable Development Goals, and recognize the Global Strategy Advisory Committee, and Global Education for All Steering Committee and Fellows.
Tags