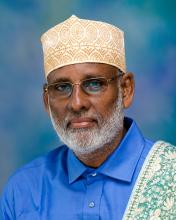 Research Agronomist in Somalia
Hubert H. Humphrey Fellowship Program
2017-18
Somalia
aamohamed@ucdavis.edu
Bio
Mr. Abdi Ahmed Mohamed holds a Bachelor of Science degree in Agriculture from Somali National University. He was awarded a Masters degree in Agricultural Science in 1986 from Reading University, United Kingdom. As a research agronomist, he has spent the last 36 years of his career working on relief, agricultural rehabilitation, food security and livelihoods. Serving on several international peace missions in Africa, he has engaged in peace-building and state-building. His focus in the last four years has been policy formulation and implementation in agricultural development in Somalia.
As a Humphrey Fellow, Mr. Mohamed's goal is to develop an integrated framework for post-conflict agricultural transformation in Somalia and plans to write papers on the subject to be developed into a book. During his time in the U.S., Mr. Mohamed will engage with institutions working on climate change and sustainable dryland farming. Furthermore, he will review the literature and take the relevant courses for building a sound theoretical foundation, drawing on case studies.
The outcome of his Humphrey Fellowship work will contribute to the debate on agricultural planning for post-conflict Somalia. The framework, which is intended for a range of users, including policy-makers, agricultural professionals, development practitioners and donors will articulate strategy and policy for a successful transition from emergency-focus to full recovery and development.
Program Type
Year
Country