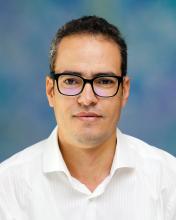 Bio
Mr. Essifi is a research assistant in geo-informatics and natural resources at the Institut des Regions Arides in Tunisia, where he focuses on land degradation assessment, desertification surveillance and drought monitoring (DLDD). Since 2009, his work has consisted of combating desertification through the use of geospatial technologies and data sets. As a result, he has a strong understanding of the impact of climate change and water scarcity problems in Tunisia. Furthermore, his research has proved to be a reliable component of both the regional and national plans to combat desertification.
For the past decade, Mr. Essifi has served as a trainer, supervisor and teacher of remote sensing and image processing. He has also been responsible for several national and international projects related to water and soil resources management. Related to his work on space technology and earth observation, Mr. Essifi has benefited from many academic grants and awards from the EU funded COST Action project, the UN Office Outer-Space Affairs (UNOOSA) and the UN Platform for Disaster Management and Emergency Response (UN-SPIDER), the Dutch MENA Scholarships Programme, training fellowships from the African Association of Remote Sensing (AARSE), and the Chinese Institute for Digital Earth and Remote Sensing (RADI). He has also contributed to the publication of numerous research papers, presented at many conference and written several reports on land use and land cover mapping to improve the management of natural resources in Tunisia, the MENA region and in Europe.
Mr. Essifi holds an MSc degree in Geomatics from the University of Manouba in Tunisia. Currently, he is a Humphrey Fellow at UC Davis for the 2017-2018 academic year with an interest in the application and/or introduction of DLDD assessment and monitoring indicators derived from spatiotemporal earth observation sensors.
---
Last updated: 2017
Research Assistant for Geo-informatics Environmental Remote Sensing at the Institut des Regions Arides in Tunisia
Program Type
Year
Country