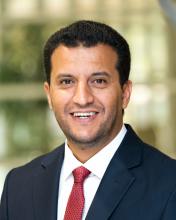 Natural Resources, Environmental Policy, and Climate Change
Bio
Abdelkader Abdulla is a senior engineer at the Public Board of Housing and Utilities in Tobruk, Libya. He has worked as an engineering consultant with VA Tech Wabag, Ltd. and Space Group GTS. In 2011, Mr. Abdulla received a master of science in Water and Environmental Engineering from the University of Surrey in the United Kingdom.  Between 2012 and 2015 he was a part-time lecturer in the Department of Water Resources and the Environment at Tobruk Vocational College (Libya). His research interests include water resources management, particularly wastewater reuse and rainwater harvesting.
Prior to joining the Hubert H. Humphrey Fellowship Program, he volunteered to supervise the start-up and operation of Tobruk's sewage treatment plant, which had been suffering from recurrent shutdowns and operational trouble due to political and security challenges in Libya. He has co-authored two articles on water resources management and sustainability and published his master of science dissertation in the ARCSA online library.
During his Humphrey Fellowship year, Mr. Abdulla wants to learn more about water resources management. Specifically, he wants to gain more knowledge and experience in wastewater treatment and reuse.
Available for:
Speaking on a technical and/or cultural topic
Informal classroom visit
Meeting with individual professors/ researchers
---
Last updated: 2018
Senior Engineer, Public Board of Housing and Utilities
Program Type
Year
Country