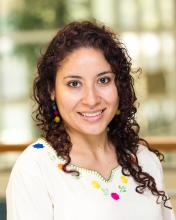 Natural Resources, Environmental Policy, and Climate Change
Bio
Sophia Espinoza is an environmental economist researcher with a master's degree in Environmental and Natural Resources Economics from University of Concepcion, Chile. She has been working for eight years with the Conservation Strategy Fund in Bolivia, focusing on sustainable development projects and applying economic tools for conservation goals. Her work consists of supporting government and communities through economic analysis and policy recommendations to achieve more sustainable practices and incentives that promote conservation. As a result, she has a strong understanding of environmental problems in Bolivia and she has proven to be a committed researcher through her contribution of ideas and solutions to these problems.
For the past five years, Ms. Espinoza has served as the main analyst for various projects in Bolivia and other countries in Latin America. In addition, she has contributed to the publication of several technical reports.
As a Hubert H. Humphrey Fellow at UC Davis, Ms. Espinoza is interested in natural resource management and public policy. In her fellowship year, she aims to complement her economics background by increasing her knowledge of the environment, agriculture, biodiversity and climate change.
Available for:
Speaking on a technical topic (environmental economics) 
Speaking on a cultural topic
Informal classroom visit
Meeting with student groups
Meeting with individual professors/ researchers
---
Last updated: 2018
Environmental Economist Researcher, Conservation Strategy Fund
Program Type
Year
Country