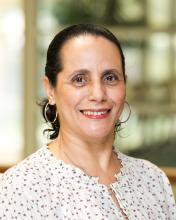 Natural Resources, Environmental Policy, and Climate Change
Bio
Mina Lalaoui Kamal has a Higher Studies Diploma of Sciences in Molecular Biology and Plant Genetic Engineering (University Mohammed V, Morocco), an Inter-University Diploma in Plant Biotechnology (University of Paris XI, France), and a Master of Science in Environmental Assessment and Management from University of East Anglia, United Kingdom. Ms. Lalaoui has been working for the government for 19 years in environmental protection and sustainable development fields. Prior to attending the Humphrey program, she was heading the Department of the Environment and the Regional Committee for Environmental Impact Assessment in the Wilaya of Marrakech-Safi Region. She has contributed to elaborating and monitoring numerous national and regional programs and projects to improve the management of water, solid waste, wastewater, and air quality.
Ms. Lalaoui is the only senior manager from the Ministry of the Interior to be selected in the past 40 years for the Hubert H. Humphrey Fellowship Program and Chevening (United Kingdom) scholarship program, and she is one of the few senior managers of the Ministry of the Interior to be awarded the MENA Scholarship (the Netherlands). She also represented her country in the USA International Visitors Leadership Program 2016 "Our Cities, Our Climate: Global Exchange for City Leaders," and has worked with many organizations and foreign missions during the preparation of the U.N. Conference on Climate Change COP22, held in Marrakech in 2016.
During her fellowship year with the Humphrey Program, Ms. Lalaoui wants to strengthen her environmental leadership skills. Specifically, she wants to develop the required skills to be part of the national strategy makers for sustainable development and environmental management.
Available for:
Speaking on a cultural topic
Formal classroom visit
Meeting with student groups
Meeting with individual professors/ researchers
---
Last updated: 2018
Head of the Department of the Environment, Wilaya of Marrakech-Safi Region, Ministry of the Interior, Morocco
Program Type
Year
Country