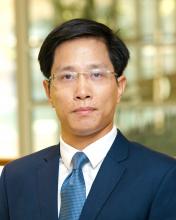 Natural Resources, Environmental Policy, and Climate Change
Bio
Son Ngoc Nguyen holds bachelor's degrees in Mechanical Engineering from the University of Transport and Communications, Vietnam, and Economic Law from Hanoi Open University, Vietnam, and has been pursuing his career in public service since 2009. After three years of working for the local government of Viet Yen District, Mr. Nguyen was promoted to work at the Department of Natural Resources and Environment of Bac Giang Province in 2012. Two years later, he was appointed as the department's Deputy Chief of the Planning and Finance Division. In this position, he is responsible for designing and implementing legislation and policies in land administration as well as managing several important public projects.
Mr. Nguyen's dream is to help his Bac Giang Province become more economically and socially developed by unleashing the potential of its 3,800 km2 of land the province's most important resource. He believes that he can materialize his dream by applying knowledge and understanding gained from the U.S. through the Humphrey Fellowship.
Keeping that idea in mind, during his Humphrey Fellowship year, Mr. Nguyen wants to know more about different aspects of U.S. land management systems, both theoretically and practically. He also hopes to improve his project management and leadership skills, especially in addressing complex projects relating to the modernization and digitalization of land administration systems.
Available for:
Formal classroom visit
Meeting with individual professors/ researchers
---
Last updated: 2018
Deputy Chief of Planning and Finance Division, Department of Natural Resources and Environment, Bac Giang Province
Program Type
Year
Country