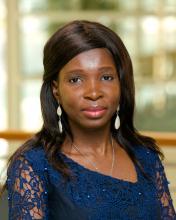 Technical Adviser, Ministry of Mines and Petroleum
Hubert H. Humphrey Fellowship Program
2018-19
Mali
btraore@ucdavis.edu
Natural Resources, Environmental Policy, and Climate Change
Bio
Binta Traore holds a master's of science in Reservoirs Geology from the University of Montpellier, France and is a technical adviser to the Minister of Mines and Petroleum of Mali. In this role, Ms. Traore has concentrated all her efforts on petroleum legislation and led the team working on the petroleum act and regulations including discussions with the International Monetary Fund (IMF) experts and private consultants. Prior to starting her Humphrey Fellowship, she spent more than a year as a member of the board of directors of Yatela mine, monitoring the closure plan and mine rehabilitation. In this position, she worked hard on the ongoing sale agreement of the private mine shares to the Mali government. Additionally, she participated in conferences, especially in the mining forum organized by the African Union on Local Content.
Before joining the Ministry of Mines and Petroleum, Ms. Traore worked for five years for a diverse range of organizations including Mali Petroleum SA as a petroleum geologist. In this organization, she was responsible for the planning of exploration activities, conducting field trips, and interpreting geology and well data.
During her fellowship, Ms. Traore wants to focus on local content development strategies in extractive industries and governance to improve the conditions of communities living in mining areas. Specifically, she wants to gain more knowledge in environmental community development.
Available for:
Speaking on a technical topic (mining and minerals in Mali)
Speaking on a cultural topic
Formal classroom visit
Informal classroom visit
Meeting with student groups
Meeting with individual professors/ researchers
Program Type
Year
Country