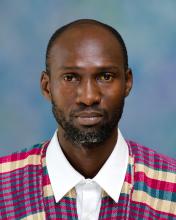 Founder and CEO of Green Africa Inc. in Sierra Leone
Hubert H. Humphrey Fellowship Program
2017-18
Sierra Leone
mkailie@ucdavis.edu
Bio
As founder and CEO of Green Africa Inc., Mr. Martin Kailie, a farmer and social entrepreneur, has worked since 2009 with women farmers empowering them to fight increasing poverty in drought and flood-prone communities in his country, Sierra Leone.
Mr. Kailie holds an MPhil in Linguistics from the University of Sierra Leone and taught in the same university for ten years before switching to sustainable agriculture and rural development. While documenting endangered languages in his native Sierra Leone, he witnessed the devastating effects of drought and floods on communities. Inspired by that experience, his dream is to use sustainable agriculture to tackle climate change to improve the lives of subsistence farmers at risk from climate change.
In 2012, Mr. Kailie participated in the Community Solutions Fellowship Program, sponsored by the U.S. State Department and was placed with YWCA Genesee where he learnt about women's issues. On his return home, he started women's cooperatives and contributed to NGOs as a project writer, evaluator and facilitator.
Mr. Kailie is currently a 2017-2018 Humphrey Fellow at UC Davis. His goal is to learn climate-smart farming and network with U.S. farmers to support 5,000 women farmers with appropriate irrigation technology, organic farming techniques, and links to markets.
Program Type
Year
Country