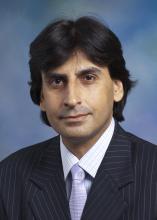 Bio
Mr. Hussain holds a Bachelor's degree in Mechanical Engineering and has over 10 years of experience in the energy sector working for both private and public institutions, with a primary focus on renewable energy. As a former Director of Policy at the Alternative Energy Development Board (AEDB), a public sector institution set up to develop renewable energy in Pakistan, he contributed to various renewable energy plans and policies that were adopted by the government of Pakistan on a national level, including the policy for use of biodiesel as an alternative fuel in 2008. Mr. Hussain serves as a Visiting Lecturer at the National Institute of Management and is a member of the Pakistan Engineering Council where he was a part of the think tank on national energy policy in 2009.
During his Humphrey year, Mr. Hussain concentrated to enhance his expertise for renewable energy policy formulation and analysis, develop a deeper understanding of global energy politics and its influence on regional & national energy policies, and effective deployment of renewable energy based innovative technological solutions for underserved segments of population. He was selected for a graduate student policy practicum, jointly initiated by UC Davis and UC Berkeley, to work with the state legislature on real time policy issues. During the practicum, he worked with the Senate Republican Caucus on life cycle analysis of solar PV panels. He also secured a professional affiliation with the California Energy Commission.
After getting an extension to his Humphrey year, Mr. Hussain worked as a Senior Research Fellow for Greentech Leadership Group, a Sacramento based organization fostering dialogue between the policymakers and the green technology sector, providing insight and education, and supporting green economic development in the state of California. He was involved with Title 20 Rulemaking Proceeding of the California Energy Commission for Energy Efficiency Standards in consumer electronics, and California Public Utilities Commission's Energy Data Access Rulemaking Proceeding.
---
Last updated: 2012
Renewable Energy Consultant
Program Type
Year
Country