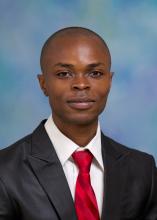 Bio
Mr. Wilde Ngalekassaga is an environmental jurist specializing in wildlife and forestry law enforcement. He's been working for five years with the Conservation Justice NGO in Gabon, focusing on anti-trafficking efforts in wildlife and forest management. His work consists of supporting governments through information intelligence, training sessions, operations management, and lawsuit monitoring. As a result, he has a strong understanding of natural resources trafficking questions in Africa and has proved to be a strong corruption fighter.
For the past three years, Mr. Ngalekassaga has served as an Assistant Coordinator for two law enforcement projects in forestry and wildlife conservation. In 2014, he was selected to participate in the International Visitor Leadership Program sponsored by the U.S. State Department. In addition, he has contributed to the publication of legal books and several reports on corruption in timber industry and wildlife management in Gabon, Benin, and Togo.
Mr. Ngalekassaga holds a Master's degree in Criminal Procedure from Université du Sahel, Senegal. Currently, he is a Humphrey Fellow at UC Davis for 2016-2017 with an interest in Natural Resources and Environmental Policy. In the upcoming fellowship year, he aims to assess U.S. wildlife and forests management systems to replicate relevant outcomes in Gabon.
---
Last updated: 2016
wrngalekassaga@ucdavis.edu
Environmental Jurist, Law Enforcement Specialist and Conservation Justice in Gabon
Program Type
Year
Country