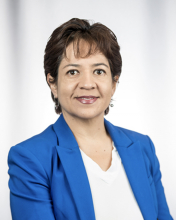 Former Vice Minister of Education in Colombia
2018 International Research Conference at UC Davis Speakers
2018-19
Bio
Natalia Ariza-Ramírez is an economist at the National University of Colombia and is a 2017-18 Humphrey International Fellow at the University of Minnesota's Humphrey School of Public Affairs. 
Additionally, Ariza-Ramírez is leading the Center for Latin American Studies at the University of California, Berkeley. In this role, Ariza-Ramirez is working to achieve greater knowledge of the community colleges system of the U.S. and to inspire new ideas and research by bringing together academics, artists, decision-makers and entrepreneurs from Latin America, the United States and the rest of the world.
Ariza-Ramírez is an expert in the design, execution, monitoring and evaluation of public policies, especially in the education sector, training for work and employment. She has led the construction of the regulatory and public policy framework of the sectors of work and education during the past 12 years. 
Ariza-Ramírez also served as an independent consultant and as vice minister of higher education in Columbia from 2014 to 2016. She also has held management positions in public institutions in Colombia, including the National Apprenticeship Service, Ministry of Labor, Ministry of Social Protection and the National Planning Department.She believes that access to quality education for children and young people is the only way to achieve social cohesion. 
She holds a master's degree in economics science from National University of Colombia with an emphasis on theory and economic policy. 
Program Type
Year