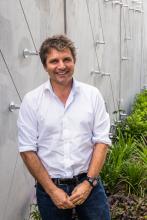 Research Director, Agriculture and Global Change at CSIRO
2018 International Research Conference at UC Davis Speakers
2018-19
Australia
Bio
Michael Battaglia is the research director of agriculture and global change at CSIRO Agriculture and Food. In that role, Battaglia guides CSIRO's work in looking at the practice and science to adapt food systems to environmental climate, market and social change.  Previously, he formed and then led CSIRO's work on agriculture and greenhouse gas mitigation, which lead to the first national assessment of the potential of the land sector to contribute to mitigation. His work also led the supporting government to design and implement its national greenhouse gas mitigation programs. 
Battaglia, an adjunct professor at the University of Tasmania, has a background in forest systems science and has led forest science research capability numerous times for CSIRO and in various parts of New Zealand.  He is leading an incubated company in CSIRO, FutureFeed, which seeks to commercialise anti-methanogenic seaweed, engaging with Australia and the U.S.
His work has been refereed in 79 first-class publications, 10 books or book chapters, 19 refereed conference publications and 51 industry reports. He has an h-index of 25.
Battaglia earned his bachelor's degree in forest science (first-class honors) from University of Melbourne and a doctoral degree from the University of Tasmania. Additionally, he has a certificate in executive management and development from the University of New South Wales' Australian Graduate School of Management.
Program Type
Year
Country