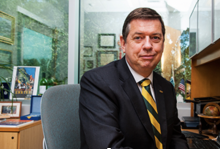 Vice President, USF World, University of South Florida
2018 International Research Conference at UC Davis Speakers
2018-19
United States
Bio
Roger Brindley is vice president of USF World where he oversees system-wide global engagement for the University of South Florida (USF). His responsibilities include leading USF World and the international student success initiatives for almost 5,000 students from 145 countries. Additionally, he oversees 2,250 faculty, staff and students completing academic experiences abroad and documents the global footprint of more than 1,200 USF faculty who conduct teaching, scholarship and research overseas.
Under his leadership, USF was a recipient of the Senator Paul Simon Award for Campus Internationalization, was recognized as a 2016 Peace Corps Top College for undergraduate volunteers and was ranked as the third graduate school for Peace Corps volunteers in the United States. Additionally, the Fulbright Commission announced USF as the number one producer of Fulbright Faculty Scholars across all universities in the United States in 2017.
A USF professor for 22 years, Brindley has received the Outstanding Undergraduate Teaching Award and the USF President's Award for Faculty Excellence, and he was identified as an honored professor by the National Society of Collegiate Scholars in 2001. In addition to his duties as vice president of USF World, Brindley served as interim dean to the College of Education from 2016 to 2018.
Brindley has written numerous articles in North American and European publications on policy and practice in higher education, has served as editor for three national/international journals, and frequently speaks at international conferences around the world.
In 2014, Brindley was elected to the Association of Public and Land-Grant Universities (APLU) Commission on International Initiatives, and has spoken at national conferences of the APLU, the Association International Education Administrators, as well as the British Council Going Global conference. Between 2015-17, Brindley was elected the APLU executive chair for the Commission on International Initiatives.  
Program Type
Year
Country