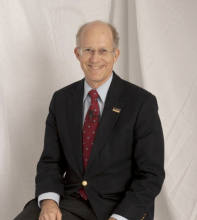 Bio
Ken Burtis is faculty advisor to the chancellor and provost at UC Davis and a professor of genetics in the College of Biological Sciences.
In his role as faculty advisor, Burtis serves as a liaison with key campus constituencies and has a lead role in the strategic planning for campus growth, including enrollment management, facilities planning and academic resources.
 
Burtis was the first dean of the College of Biological Sciences. Prior to his appointment as dean, he served as chair of the Genetics Graduate Group, vice-chair of the Department of Molecular and Cellular Biology, associate director of the UC Davis Genome Center, and associate dean for Undergraduate Academic Programs in the College of Biological Sciences.
 
Burtis' research interest focuses on DNA repair in Drosophila; specifically, the molecular basis of interstrand crosslink repair. He is a member of and the Genetics Society of America.
Burtis earned his bachelor's degree in biochemistry and biophysics from UC Davis, and his Ph.D. in biochemistry from Stanford University. 
Faculty Advisor to the Chancellor and Provost, UC Davis
Program Type
Year
Country