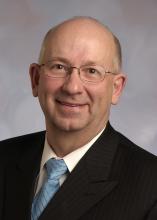 Senior Vice President Global Strategic Alliances, ELSEVIER
2018 International Research Conference at UC Davis Speakers
2018-19
United States
Bio
Brad Fenwick is a professor of pathobiology and microbiology at the University of Tennessee and senior vice president of global strategic alliances with Elsevier. 
As senior vice president with Elsevier, Fenwick is charged with forging non-commercial partnerships and productive collaborations with and between universities, research centers, industry, governments and funding bodies to enhance higher education and academic research productivity and success.
He has held numerous senior administrative positions in academia, including graduate dean, vice president for research, president for intellectual properties, and vice chancellor for research and engagement. Prior to working at Elsevier, he held research executive roles as vice chancellor for research and engagement at the University of Tennessee, Knoxville where he also served as professor of pathobiology in the College of Veterinary Medicine. 
Additionally, Fenwick has held more than 20 federally appointed or elected positions during his career, and was chief scientist for the U.S. Department of Agriculture.  
He has received numerous awards and recognitions for his research and leadership, holds several patents (including a patent for the Kennel Cough Vaccine), founded a biotechnology company and consults globally with companies, universities and governments.  
He is a Fellow with the American Council on Education, Fellow with the American Association for the Advancement of Science, a Jefferson Fellow and Science Advisor with the U.S. Department of State, and a Distinguished Fellow with National Academies of Practice.  
He holds a doctorate in veterinary medicine from Kansas State University and a doctoral degree in comparative pathology from the University of California, Davis. 
Program Type
Year
Country