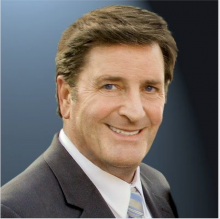 John Garamendi, U.S. Congressman, California's third district
2018 International Research Conference at UC Davis Speakers
2018-19
United States
Bio
John Garamendi is a U.S. Congressman representing California's third district. He joined the U.S. House of Representatives on November 5, 2009 and has nearly four decades of public service.
As California's 46th Lieutenant Governor, Garamendi was chair of the Commission for Economic Development, where he transformed this important body into a powerhouse to advocate for workforce development, vocational education, and research. He also served as a regent of the University of California, a trustee for the California State University System and chair of the California State Lands Commission.
Garamendi was elected to the California legislature in 1974, where he served for 16 years, attaining the position of senate majority leader. His laws established California's emergency medical system, expanded community health clinics, created a work-oriented welfare program, protected Lake Tahoe and Mono Lakes, and developed an overall state agenda for competitiveness and scientific advancement. 
In 1991, Garamendi became California's insurance commissioner. He successfully implemented Proposition 103, reforming the auto and homeowner insurance industry. In 1995, President Bill Clinton appointed Garamendi as Deputy Secretary of the U.S. Interior Department. In 2001, Garamendi was reelected California's Insurance Commissioner where his work culminated in new laws that led to a 58 percent reduction in workers compensation costs. 
One of Garamendi's passions is a commitment to international service. Garamendi and his wife, Patti, started their married life as Peace Corps volunteers teaching and doing community development work in Ethiopia. In 1998-2000, Garamendi led a group of returned Peace Corps volunteers on a peace mission during the Ethiopian-Eritrea war and helped negotiate a peace treaty. Garamendi created a similar team that assisted in peace negotiations in the Congo Civil War.
Garamendi was raised on his family's cattle ranch in Mokelumne Hill. He graduated with a bachelor's degree in business from UC Berkeley and a master's degree from Harvard Business School. Garamendi and his wife, Patti, live in Walnut Grove and have six children and 10 grandchildren.
Program Type
Year
Country