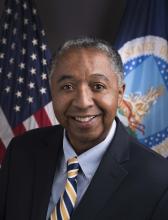 Director of the Center for International Programs at the National Institute of Food and Agriculture (NIFA), U.S. Department of Agriculture (USDA)
2018 International Research Conference at UC Davis Speakers
2018-19
United States
Bio
Otto Gonzalez is the director of the Center for International Programs at the National Institute of Food and Agriculture (NIFA), U.S. Department of Agriculture (USDA).  
As Director of NIFA's Center for International Programs, Gonzalez sees his role as helping to bring NIFA to the world and the world to NIFA. He and his international programs team work to enhance the ability of NIFA and the U.S. universities it serves to engage globally and advance U.S. agriculture, and to address priority agricultural issues of global concern.  
Prior to joining NIFA Gonzalez was a special projects officer in the Office of Capacity Building and Development in the USDA Foreign Agricultural Service (FAS), based in Washington, D.C. where for 19 years he led international technical assistance activities to build capacity in natural resource management, agriculture, and rural development.  
Gonzalez has worked on numerous projects throughout the globe, including in Afghanistan, Pakistan and Central America among other countries.  Gonzalez's international projects have included work with other USDA agencies, U.S. universities, United Nation agencies and various countries' ministries of agriculture. 
Prior to joining USDA/FAS Gonzalez served as an American Association for the Advancement of Science (AAAS) diplomacy fellow with USAID. 
Gonzalez earned his bachelor's degree in biological sciences and master's degree in biology from Fordham University in Bronx, New York. He earned his Ph.D. in natural resources and environment, with a focus in forest ecology, from the University of Michigan.
Program Type
Year
Country