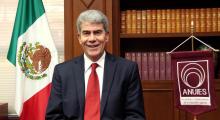 Bio
Guillermo Hernández is general director of strategic partnerships for the National Association of Universities and Higher Education Institutions (ANUIES)—a role he has served in since 2013.
Hernández has more than 30 years of international experience in research and development with students, faculty, researchers and rectors within North America, Latin-American, Europe, Israel, China and Japan. Hernandez also has worked in research and development for national and international companies in four different countries since 1983.
Hernandez has been a professor since 1979, teaching classes from High School to doctoral level in four countries. He has been director, rector and founder of several Institutions in Mexico, including the Research Center for Preservation of Infrastructure in Campeche, the School of Engineering at the Mayab University in Merida and the Polytechnic University of Aguascalientes.
He was a member of the National Research System in Mexico—the most important research association in Mexico—for more than 15 years. He has relevant scientific publications with Harvard University and ASTM International. Additionally, he has worked with NASA on the development of new technologies that can be applied in space, on earth and can be commercialized too. He has published roughly 70 scientific articles and given more than 50 international presentations.
He received a bachelor's degree in industrial engineering at the Technological Institute of Aguascalientes, a master's degree in metallurgy and material sciences at the National Autonomous University of Mexico, a doctoral degree in France and then two post doctorates: one in Sweden, the other in the United States. He also did an executive master's in business strategic direction at the Pan-American Institute of Businesses.
Program Type
Year
Country